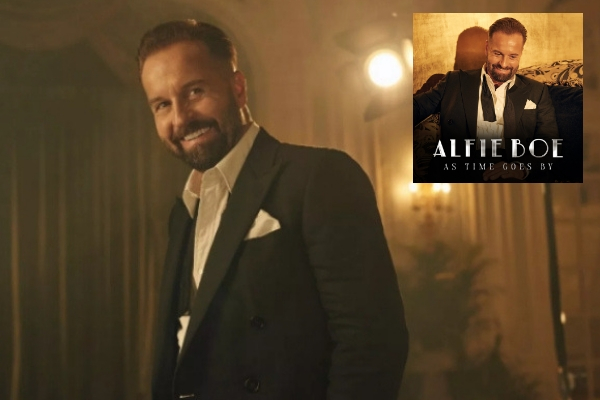 Alfie Boe has claimed his fifth top 10 album as a solo artist in the UK chart, in at number 10, with the release of his vibrant album As Time Goes By via Decca Records. Will you be Sing Sing Sing-ing along with him?
As Time Goes By celebrates the golden era of music from the 30s and 40s, a time that is often overlooked. Since the chart's inception in 1956, surprisingly many of the best-known tunes featured on the album had never made it to into the top 10. Classics such as 'Moonlight Serenade' hadn't charted since 1976 and 'Sing Sing Sing' was last in at 1971. Now Boe brings these beautiful songs to the charts of the 21st century.
Boe has created a lane of his own in a chart week that not only sees pop artists Take That, Little Mix and Rita Ora in the top 10 but is also the highest volume week of the year. He has previously has achieved four top 10 albums as a solo artist; Bring Him Home (2009), Alfie (2011), Storyteller (2012) and Trust (2013).
Since then he's also had two recent UK number 1 albums under his belt for albums Together (2016) and Together Again (2017), made with his great friend Michael Ball.
Alfie Boe said:
"I'm delighted to have my record reach the top 10. It's been a project of love, these are the songs I grew up listening to so it's been an honour to record them for my own album. I'm very excited to start performing them live next year!"
Next year he'll be taking the new record on a huge UK tour, kicking off in Cardiff on 18 March 2019, followed by a series of shows in some of the UK's most stunning venues including the Liverpool Philharmonic, Brighton Dome and before coming to a close at London's Royal Albert Hall on 17 April.
My new album is out now! I am so happy to share this collection of songs from such a fantastic golden era for music! Get your copy here ➡️ https://t.co/FKc9Zjhyz2 #ItsBoeTime pic.twitter.com/VXuLYKTDz8

— Alfie Boe (@AlfieBoe) November 23, 2018