Why is the story of The Small Faces so important, and so personal, to Carol Harrison? The former EastEnders star turned theatre writer, director, producer and star tells us about her journey with ALL OR NOTHING and where the Mod musical goes from here...
1965. A new phenomenon erupted out of London's East End. It was the essence of all that was cool. It was Mod.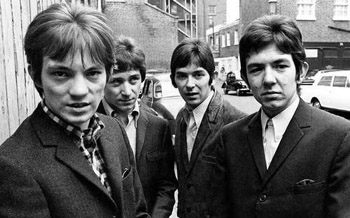 All Or Nothing is the story of four charismatic young kids from East London with humour, attitude, passion and, above all, talent. They became the Small Faces and were rocketed into the big time, only to discover the path to success is paved with exploitation, betrayal and, ultimately, tragedy. The musical celebrates the unique sound of this iconic Mod band, with all the Small Faces' hits, including Whatcha Gonna Do About It, Tin Soldier, Lazy Sunday, Itchycoo Park and, of course, All or Nothing.
First seen in 2016, All Or Nothing has toured the UK extensively, multiple Off-West End runs at The Vaults and is now enjoying a ten-week West End season at the Ambassadors Theatre after selling out around the corner at the Arts Theatre.
Chris Simmons narrates as Small Faces founder Steve Marriott with, in the band, Samuel Pope as Young Steve Marriott, Stefan Edwards as Kenney Jones, Stanton Wright as Ronnie Lane, Rikki Lawton as Jimmy Winston and Alexander Gold as Ian McLagan. The show also features Karis Anderson as PP Arnold, Russell Floyd as Don Arden and the show's creator and director Carol Harrison as Kay Marriott.
---

In conversation with... Carol Harrison
All Or Nothing was conceived and created by Carol Harrison, who also directs, produces and appears in the show as Kay Marriott, Steve's mother. Harrison is well known for her TV acting credits, most famously as Louise Raymond in EastEnders. She explains why the story behind and success of All Or Nothing is so personal.
How much were the Small Faces a part of your life growing up?
I knew Steve Marriott from eight years old. He was in a band with my cousin and he lived a few streets away in the East End. It was the best time.
What was your inspiration for writing a show about the band?
The band for me sums up the Mod era. Their music is inspirational - the music and fashion of their story encapsulates a rock'n'roll take and holds a very special place with me.
You've had a lot of support from those connected to the story in real life.
Yes, Mollie Marriott (Steve's daughter) is our vocal coach. PP Arnold is additional support and adviser along with the Lane family.

Why did you also want to appear in the show?
I knew Kay Marriott (Steve's mum). She was a strong working-class woman and a complex character. Me all over.
What's been the high point (and low point) of your All or Nothing journey so far?
It has been a complete rollercoaster ride from the beginning. A low point was thinking we had funds then they disappeared. A high point was opening in the West End on my birthday.
What are your future plans for the show?
I would like it to go to Europe and Australia.
What's your favourite Small Faces song?
My favourite is Tin Soldier - it blows me away every time I hear it. Our musical supervisor's arrangement of it in the show is just brilliant. A showstopper.
Anything else you'd like to add?
All Or Nothing has been a labour of love, driven by my passion for the era, the music and principle of bringing live R&B music and theatre together. It is a real story that touches the audience. I am most proud of bringing so many new audiences, who wouldn't normally go to a musical or play, into the theatre.