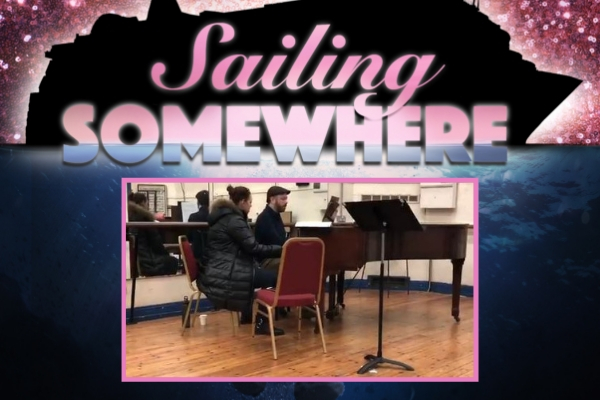 As preparations pick up pace for Suanne Braun's returns to the London stage in Sailing Somewhere at Live at Zedel, we peek into the rehearsal room, get an inside insight on the making of the trailer and hear the opinion of a theatrical legend who thinks you should book NOW for the play with songs that runs from 27 February to 2 March 2019.
Written by Matthew Hurt, with songs by Conor Mitchell, Sailing Somewhere is a bittersweet and poignant show that falls somewhere between cabaret and confessional.
Last seen on stage in sci-fi musical Fanatical, Suanne Braun plays a cruise ship singer who's filling the days until she docks by entertainsing the punters in the Starlight Lounge, riffing with her drug-addled pianist and drinking. Back in her dressing room she gossips about the passengers and shares memories of life back home in South Africa and the little girl she left behind…
Have a sneak peek of what to expect:
Working away on Almost Love. #rehearsals @SuanneBraun @MindTheGalp pic.twitter.com/dbDNUTDKHN

— Sailing Somewhere (@SailingSPlay) February 12, 2019
A sneak peak at yesterday's rehearsal. pic.twitter.com/7y0X4SDWvc

— Sailing Somewhere (@SailingSPlay) February 6, 2019
The show was first seen in South Africa in 2011, and has been described as a "show for the soul" (Tonight, S Africa), "the perfect pick-me-up for bored and jaded theatre-goers" (Business Day) and "an engrossing slice of theatre" (Artslink).
Sailing Somewhere comes to the UK following the success of Hurt's previous play, The Man Jesus, which toured the UK in 2014 and was nominatd for the Irish Times Best New Play award. His other plays include Believe, Tuesdays at Tesco's, The Secret Agent and Singing! Dancing! Acting!, which starred Simon Callow, Rula Lenska and Josie Walker when it ran at Soho Theatre in 2003.
Simon Callow is actually among the many musical theatre fans excited about Sailing Somewhere:
Delicious, tender, funny play sitting perfectly in Zédel's exquisite and atmospheric cabaret space, Sailing Somewhere stars award-winning actress Suanne Braun and is written by my friend and constant collaborator Matthew Hurt, a unique, beguiling voice.Gohttps://t.co/JSDa9kmmgz

— Simon Callow (@SimonCallow) February 17, 2019
Hurt's collaborator, Conor Mitchell, is the founder and Artistic Director of The Belfast Ensemble, who received the 2016 Arts Council Northern Ireland Major Individual Artist's Award for his body of work. That work includes Abomination The DUP in Concert (Lyric Theatre, Belfast) which set homophobic statements made by DUP politicians to music, The Habsburg Tragedies and award-winning song cycle Ten Plagues, which he created with Mark Ravenhill.
Behind the scenes at the making of the trailer:
Fun times while shooting our mini-trailer. Hope you guys enjoyed it and see you all at @LiveatZedel starting February 27. Get your tickets now. #London #LondonTheatre #SailingSomewhere #mondaythoughts #MondayMotivaton #MondayMood #theatre #Liveatzedel pic.twitter.com/hVFXHm1dxo

— Sailing Somewhere (@SailingSPlay) January 28, 2019
The show's lone performer, Suanne Braun, earned an army of fans playing the goddess Hathor in cult sci-fi TV series Stargate. Last year she combined that sci-fi world with musical theatre, appearing in comic book hit Fanatical, playing Trix. Her other UK musical theatre credits include Mamma Mia! and Cabaret.