They absolutely oughtta be in pictures, and they will be soon. A nine-strong cast of #StageFaves has been announced for the UK's first-ever professional production of THE BIOGRAPH GIRL, David Heneker's 1980 lovesong to Hollywood's silent film era. Who's playing Lillian Gish, Mary Pickford, DW Griffith and other celluloid legends?
Commissioned to run as part of the Finborough Theatre's acclaimed 'Celebrating British Musi Theatre', this major new look at the 1980 West End musical THE BIOGRAPH GIRL, with music by Half a Sixpence's David Heneker and a book by Warner Brown, runs for three weeks only from 22 May to 9 June 2018, with press nights on 24 and 25 May.
This musical celebration of Hollywood's glorious era of silent film begins in 1912, when disreputable "flickers" are shown in fleapits and no self-respecting actor will appear in them, and ends in 1927, when movies have become a glamorous, multi-million dollar industry and the first talking pictures signal the doom of silent films. In a breathtaking sweep of just fifteen years, innovative directors created filmmaking as we know it today, groundbreaking movie moguls laid the foundations of the entertainment industry, and trailblazing actors launched the Hollywood star system.
Weaving together the heartbreaks and triumphs of the flawed genius director DW Griffith and the first movie stars Lilian Gish and Mary Pickford, THE BIOGRAPH GIRL is a love letter to the stardust and scandals of the silent movie era.
The cast, playing real-life legends, features Matthew Cavendish (as Mack Sennett), Lauren Chinery (Dorothy Gish), Emily Langham (Lillian Gish), Sophie Linder-Lee (Mary Pickford) and Jonathan Leinmuller (DW Griffith), as well as Jason Morell (Bitzer and Adolph Zukor), Joshua C Jackson (Epping), Charlie Ryall (Rose) and Nova Skipp (Momma).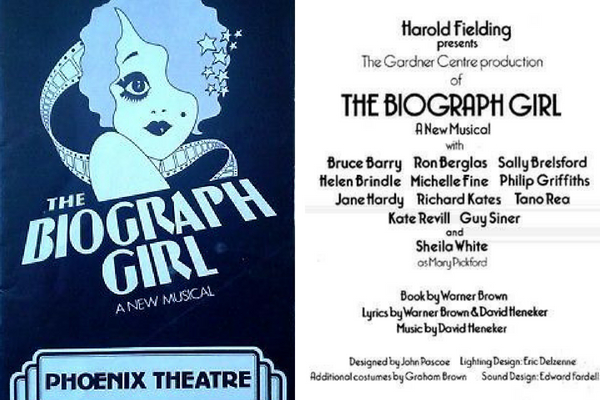 The original 1980 production

The libretto has been specially revised for this production by its original co-writer Warner Brown and includes – for the very first time – the reintroduction of songs cut from the West End premiere production. THE BIOGRAPH GIRL received its West End premiere at the Phoenix Theatre in 1980, directed by Victor Spinetti, with Lillian Gish in the audience. It ran for just 57 performances.
Songs in the musical include "The Moving Picture Show", "The Moment I Close My Eyes", "Working in Flickers", "Diggin' Gold Dust", "Nineteen Twenty-Five", "Gentle Fade" and the title song. This new production is directed by Jenny Eastop, who returns to the Finborough Theatre following her production of Mr Gillie for which she received an Offies nomination for Best Director.
---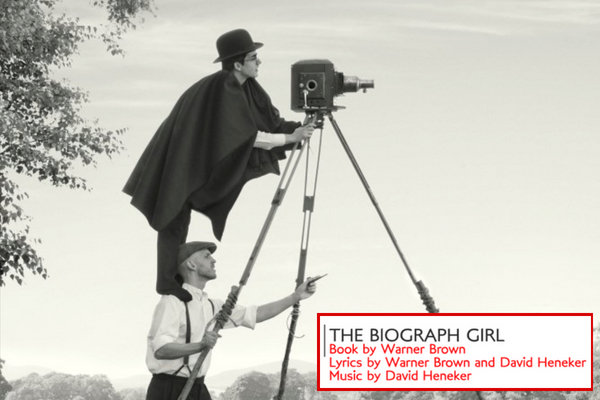 The Biograph Girl is part of Finborough's music series
Celebrating British Music Theatre
The Finborough Theatre's 'Celebrating British Music Theatre' series has seen a host of acclaimed productions of British music theatre, including both rediscoveries and premieres.
Rediscoveries to date include Leslie Stuart's Florodora, Lionel Monckton's Our Miss Gibbs, Harold Fraser-Simson's operetta The Maid of the Mountains, a "Gilbert and Sullivan" Double Bill featuring Gilbert's play Sweethearts and Sullivan's opera The Zoo, Dame Ethel Smyth's opera The Boatswain's Mate, Sandy Wilson's The Buccaneer, Oscar Asche's Chu Chin Chow, Leslie Bricusse and Anthony Newley's The Roar of the Greasepaint – The Smell of the Crowd, Ivor Novello's Perchance to Dream, Gay's The Word (which transferred to Jermyn Street Theatre), and Valley of Song, Gilbert and Sullivan's The Grand Duke and Princess Ida, Edward German's Merrie England, Rutland Boughton's 1914 "music-drama" The Immortal Hour, Julian Slade and Dorothy Reynolds' Free As Air, and Alan Price and Trevor Peacock's Andy Capp – The Musical.
Meanwhile, amongst the musicals premiered in the Finborough's series have been Grant Olding's Three Sides, Charles Miller and Kevin Hammonds' When Midnight Strikes, Paul Scott Goodman's Rooms: A Rock Romance, Phil Willmott's Princess Caraboo and Lost Boy (which transferred to Charing Cross Theatre), and Craig Adams and Nona Sheppard's Thérèse Raquin (which transferred to the Park Theatre). The Finborough Theatre cast recordings of When Midnight Strikes, Gay's The Word, Valley of Song and Thérèse Raquin are all available on CD.