No sooner had guest blogger Caroline Hanks-Farmer come back razzle-dazzled from the CHICAGO press launch than producers announced that, due to demand, they've now extended booking for the show's West End return through to October. Live-tweeting from this week's event - plus sneak-peek rehearsal photos of Cuba Gooding Jr and his murderesses!
Even before previews have begun, the producers of the Kander & Ebb musical CHICAGO, winner of six Tony Awards, two Olivier Awards and a Grammy, have extended the booking period at the Phoenix Theatre in London until 6 October 2018. Following a successful UK and international tour, and after a five-and-a-half-year absence from London, the musical will open on Wednesday 11 April 2018, following previews from 26 March.
Casting for the new booking period will be announced nearer the time.
The cast for the first booking period, from 26 March to 30 June 2018, is led by Cuba Gooding Jr, Sarah Soetaert, Josefina Gabrielle, Ruthie Henshall and Paul Rider. This cast will also feature Alan Richardson, Michelle Antrobus, Natalie Bennyworth, Nicola Coates, Frances Dee, Zoe Gappy, Emma Harris, Chelsea Labadini, Joanna Rennie, Abramo Ciullo, Francis Foreman, Luke Jarvis, Matt Krzan, Charles Ruhrmund, Todd Talbot, Callum Macdonald, Chris Warner Drake and Matthew Wesley.
CHICAGO originally ran in London for 15 years, making it the West End's longest-running revival. It first opened at the Adelphi Theatre on 18 November 1997 and, taking in moves to the Cambridge and Garrick Theatres, continued until 1 September 2012. The show continues to play on Broadway, where it recently celebrated its 21st birthday.
CHICAGO, which is based on the play by Maurine Dallas Watkins, has a book by Fred Ebb and Bob Fosse, music by John Kander and lyrics by Fred Ebb. The 1996 Broadway revival was choreographed by Ann Reinking in the style of Bob Fosse, directed by Walter Bobbie, and produced by Barry and Fran Weissler.
---
Rehearsal photos
See the full gallery on CHICAGO's #StageFaves show page for more behind-the-scenes photos from the rehearsal room.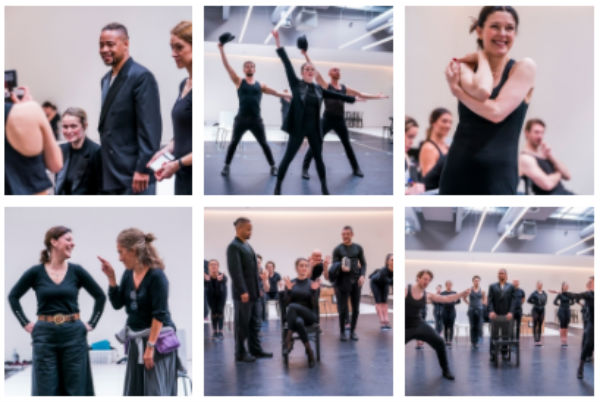 ---
Press launch
Flying the StageFaves flag, Caroline Hanks-Farmer attended a special press showcase event for CHICAGO, held on Tuesday (20 March 2018) at London's Brasserie Zedel where current stars Cuba Gooding Jr, Josefina Gabrielle, Sarah Soetaert and Ruthie Henshall all performed.