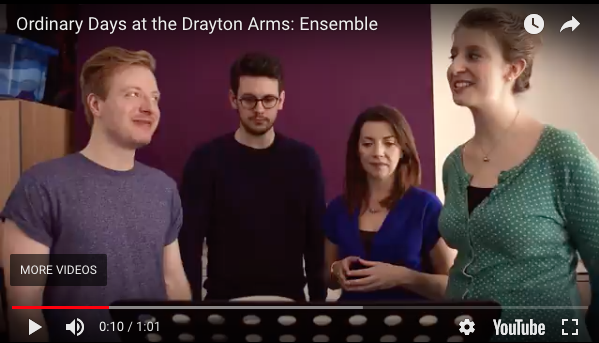 Got your tickets yet for Streetlights, People!'s award-winning production of Adam Gwon's renowned ORDINARY DAYS? Meet the four-strong cast in our series of five videos... then get booking to see the show at Drayton Arms Theatre, where it continues its limited season until 9 December 2017.
ORDINARY DAYS, with music and lyrics by Adam Gwon, is a contemporary musical, set in modern-day New York. It follows the parallel lives of four young city-dwellers struggling to find meaning in the madness: Claire, who can't let go of her past; Jason, determined to begin their future together; Warren, an artist who's lost his sense of purpose; and Deb, a student who's lost her thesis notes. It is a witty, poignant, and ultimately very relatable story about human connection and finding beauty in unexpected places.
Streetlights, People! was founded by Nora Perone (who plays Deb) and Jen Coles (who directs) while they were both students at the Royal Central School of Speech and Drama – for them, producing their own projects meant never having to spend a day at home waiting for the phone to ring. Perone and associate producer Neil Cameron reprise their roles as Deb and Warren, who become friends through the show's song cycle, and are joined in the latest London run by Natalie Day and Taite-Elliot Drew as Claire and Jason. Musical direction is by Rowland Brache.
This production began with a sold-out engagement at the Hen and Chickens Theatre last October before transferring to London Theatre Workshop this past summer and on to the Edinburgh Fringe, where it was shortlisted as one of only ten musicals for the Musical Theatre Review Best Musical Award and nominated for Best Musical at the Broadway World Awards at the Edinburgh Fringe 2017. It has returned to London as the winner of the Drayton Arms' Eddies Kensington Award, intended to identify "the most exciting new companies at this year's Fringe Festival."
---
Meet Warren
---
Meet Deb
---
Meet their London co-stars

Videography by Alex Ryland-Jones for Sally White Creative
---
Edinburgh trailer