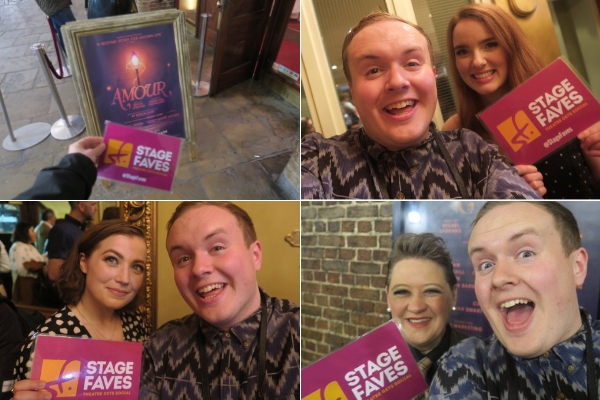 Our #FirstNightTakeover series continues with Perry O'Bree attending the West End opening of AMOUR at the Charing Cross Theatre. Perry was there taking in the intimate atmosphere of Michel Legrand's musical fantasy and of course fitting in some post-show chats with cast members Anna O'Byrne, Elissa Churchill and Claire Machin. It was a 'chocolate box of delightful joy' and Perry seems to have loved every bite!
In this major new production directed by Hannah Chissick and produced by Danielle Tarento, Gary Tushaw stars as Dusoleil, Anna O'Byrne plays Isabelle and Alasdair Harvey is the Prosecutor. They are joined by Elissa Churchill, Claire Machin, Keith Ramsay, Steven Serlin, Alistair So and Daniel Stockton.
The much-missed Oscar-winning French musical composer, conductor and pianist Michel Legrand's Amour – about daring to dream and the power of self-belief – has been created with English lyrics by Jeremy Sams (from the original French by Didier Van Cauwelaert) and adapted from the 1943 short story Le Passe-Muraille by Marcel Aymé. Amour opened on Broadway in 2002 and was nominated for five Tony Awards, including Best Musical.
So why should you go along and see Amour at the Charing Cross Theatre? Actress Claire Machin says if you are looking for escapism, gorgeous singing, laughter and something beautiful, it's the musical for you!
---
First-night video
---
First-night tweeting