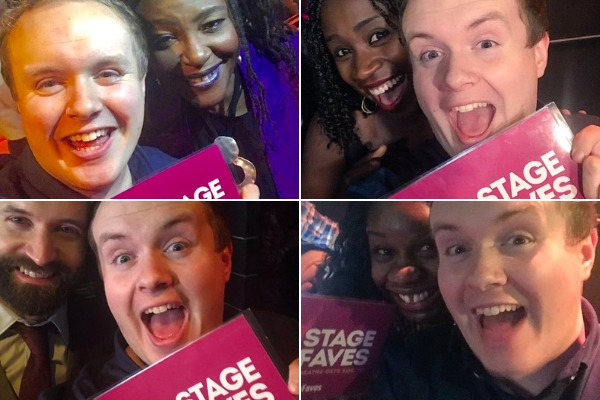 Our #FirstNightTakeover series continues with Perry O'Bree attending the West End opening of CAROLINE, OR CHANGE at the Playhouse Theatre, continuing in the West End to 9 February 2019 following sell-out seasons at Chichester and Hampstead. Perry was there at the after-party to catch up with several members of the cast including Sharon D Clarke (who "blew the roof off the Playhouse"), Naana Agyei-Ampadu, Alastair Brookshaw, Me'sha Bryan and Lauren Ward. It turned out to be quite an emotional night!
The cast of Jeanine Tesori and Tony Kushner's musical Caroline, or Change is led by Olivier Award-winning actress Sharon D. Clarke in a critically-acclaimed performance as Caroline Thibodeaux. She is joined by Naana Agyei-Ampadu (Dotty Moffett), Keisha Amponsa Banson (The Radio 3), Alastair Brookshaw (Stuart Gellman), Me'sha Bryan (The Washing Machine), Angela Caesar (The Moon), Dujonna Gift-Simms (The Radio 1), Sue Kelvin (Grandma Gellman), Teddy Kempner (Mr Stopnick), Ako Mitchell (The Dryer/The Bus), Abiona Omonua (Emmie Thibodeaux), Vincent Pirillo (Grandpa Gellman), Tanisha Spring (The Radio 2) and Lauren Ward (Rose Stopnickk Gellman) with Cassiopeia Berkeley-Agyepong, Zalika Henry, Laura Medforth, Timothy Quinlan and Teddy Wills.
Nine young performers have been cast in the roles of Noah, Jackie and Joe. Isaac Forward, Aaron Gelkoff and Jack Meredith alternate the role of Noah, Mark Mwangi, Kenya Sandy and Jeremiah Waysome alternate the role of Jackie and the role of Joe is alternated by Josiah Choto, David Dube and Raphael Higgins-Hume.
Directed by Michael Longhurst, this winner of the 2007 Olivier Award for Best New Musical is a "playful, funny, and deeply moving portrait of America at a time of momentous social upheaval, set to an uplifting and profound score of soul, blues, classical and traditional Jewish folk music".
Caroline or Change runs at the Playhouse Theatre until 9 February 2019. CLICK HERE TO PURCHASE!
---
First-night video
---
First-night tweeting