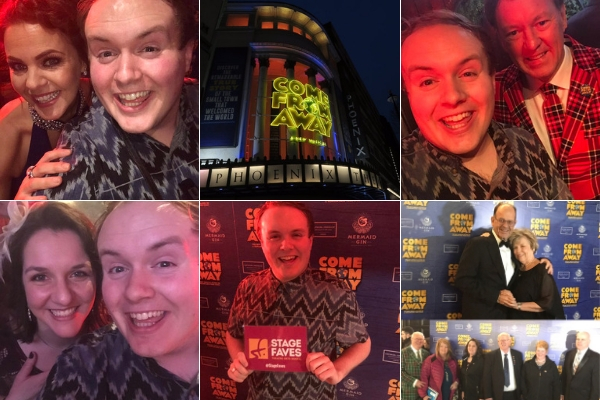 Our #FirstNightTakeover series continues with Perry O'Bree attending the West End opening of Tony Award-winning Canadian musical COME FROM AWAY at the Phoenix Theatre. Perry was there at the after-party to catch up with several members of the cast including Rachel Tucker and Jenna Boyd, plus he also caught up with original stranded passenger Kevin Tuerff, and Janice Goudie – one of the islanders who expressed such love and compassion to the 7,000 people diverted to their hometown during the wake of 9/11. Welcome to the Rock…
Come From Away, featuring a book, music and lyrics by Irene Sankoff and David Hein and directed by Christopher Ashley, tells the remarkable true story of 7,000 stranded air passengers during the wake of 9/11, and the small town in Newfoundland that welcomed them.
In the cast are Jenna Boyd (Beulah), Nathanael Campbell (Bob), Clive Carter (Claude), Mary Doherty (Bonnie), Robert Hands (Nick, Doug), Helen Hobson (Diane), Jonathan Andrew Hume (Kevin J, Ali), Harry Morrison (Oz), Emma Salvo (Janice), David Shannon (Kevin T, Garth), Cat Simmons (Hannah) and Rachel Tucker (Beverley, Annette). All these performers will play additional roles as well.
On 11 September 2001 the world stopped. On 12 September, their stories moved us all. This new musical recounts the incredible true story of how the residents of Gander, Newfoundland welcomed the passengers of planes from around the world. Cultures clashed, and nerves ran high, but as uneasiness turned into trust, music soared into the night and gratitude grew into enduring friendships.
Earning widespread critical and audience acclaim, the multi-award-winning musical continues sold-out, record-breaking engagements on Broadway, and in Canada, with a 60-city North American Tour launched in Seattle, an Australian production confirmed for summer 2019, and a feature film adaptation in the works.
Thanks to Perry, you can watch the extended opening night curtain call and see both the writers Irene Sankoff and David Hein and several of the original Islanders join the cast and musicians on stage.
Come From Away continues at the Phoenix Theatre. CLICK HERE TO PURCHASE!
---
First-night video
---
First-night tweeting