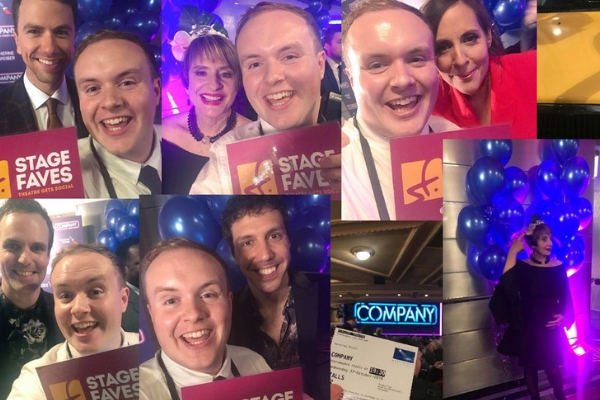 Our #FirstNightTakeover series continues with Perry O'Bree attending the West End opening of COMPANY at the Gielgud Theatre, probably the most eagerly-anticipated musical theatre opening of 2018. Perry was there on the Red Carpet and at the after-party to grab selfies (with Patti LuPone, no less) and chat to stars of Marianne Elliott's gender-bending production, including those important guys: Ben Lewis, Richard Fleeshman, Matthew Seadon-Young, Jonathan Bailey, Alex Gaumond & Gavin Spokes. We'll drink to that!
Just hours after a star-studded opening night, the producers of the gender-swapped version of Stephen Sondheim and George Furth's Company released 100,000 extra tickets for the show with booking now extended until 30 March 2019.
The cast for the production is headed by: Rosalie Craig as Bobbie, Patti LuPone as Joanne, Mel Giedroyc as Sarah, Jonathan Bailey as Jamie, George Blagden as PJ, Ashley Campbell as Peter, Richard Fleeshman as Andy, Alex Gaumond as Paul, Richard Henders as David, Ben Lewis as Larry, Daisy Maywood as Susan, Jennifer Saayeng as Jenny, Matthew Seadon-Young as Theo and Gavin Spokes as Harry. The cast is completed by Michael Colbourne, Francesca Ellis, Ewan Gillies, Grant Neal and Jaimie Pruden.
Debuting on Broadway in 1970, the multi-award-winning show boasts the timeless music and lyrics of Sondheim and a book by Furth. Featuring classic Sondheim songs 'Being Alive' and 'Marry Me a Little', the original production was nominated for an incredible 14 Tony awards and won six including Best Musical.
Company runs at the Gielgud Theatre until 30 March 2019. CLICK HERE TO PURCHASE!
---
First-night video
---
First-night tweeting