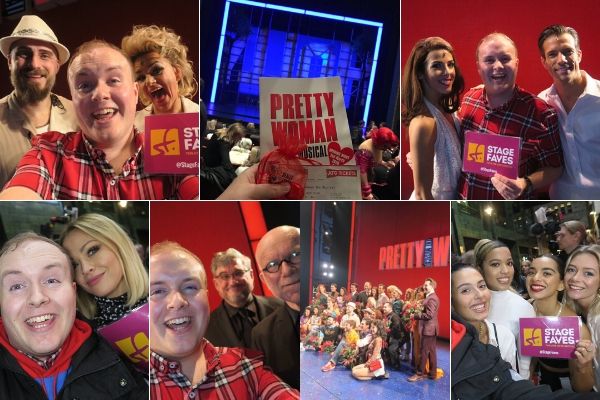 Our #FirstNightTakeover series continues with Perry O'Bree attending the opening of Pretty Woman The Musical at London's Piccadilly Theatre. Perry lives the dream, enjoying every minute of this new addition to the West End, and chats to lead players Aimie Atkinson, Danny Mac, Rachael Wooding and Bob Harms. Oh, and did we mention, he was sitting next to Six The Musical's Natalie May Paris?
Aimie Atkinson and Danny Mac play the roles of Vivian and Edward in Pretty Woman: The Musical and they are joined by Rachael Wooding as Kit De Luca, Bob Harms as Happy Man/Mr Thompson, Neil McDermott as Philip Stuckey and Mark Holden as James Morse. The musical plays at the Piccadilly Theatre for a strictly limited engagement until 2 January 2021.
The cast also includes Jemma Alexander, Andy Barke, Kimberly Blake, Katie Bradley, Oliver Brenin, Alex Charles, Olly Christopher, Ben Darcy, Daniel De Bourg, Hannah Ducharme, Nicholas Duncan, Paige Fenlon, Damon Gould, Alex Hammond, Antony Hewitt, Matt Jones, Serina Mathew, Katie Monks, Lily Wang, Joanna Woodward and Charlotte Elisabeth Yorke.
Directed and choreographed by the two-time Tony Award winner Jerry Mitchell, Pretty Woman: The Musical features original music and lyrics by Grammy Award winner Bryan Adams and Jim Vallance, a book by Garry Marshall and the film's screenwriter J.F. Lawton.
Featured in the musical is Roy Orbison and Bill Dee's international smash hit song 'Oh, Pretty Woman' which inspired one of the most beloved romantic comedy films of all time.
---
First-night video
---
First-night tweeting