Our #FirstNightTakeover series continues with Perry O'Bree attending the West End premiere (on 14 December 2017) of macabre musical masterpiece THE GRINNING MAN, which has transferred to Trafalgar Studios after its award-winning 2016 world premiere at Bristol Old Vic. In addition to capturing the creepy atmosphere and Trafalgar transformation, Perry caught up with show stars Louis Maskell, Sanne den Besten and Amanda Wilkin, as well as fellow #StageFave Hannah Waddingham, who recently recorded her own version of one of the show's songs...
A strange new act has arrived at the fairground. Who is this youth and how did he get his hideous smile? Helped by an old man, a lone wolf and a blind girl, his story must be told. A tale of an abandoned child with a terrible secret. Paraded as a freak, then celebrated as a star, but only the sightless girl can truly love him for who he is. Let the darkness seduce you.
This romantic gothic musical love story is directed by Tony award-winning Tom Morris and based on the classic Victor Hugo novel, The Man Who Laughs. It's set in a fantastical world with a dark heart brought to life by Kneehigh writer Carl Grose, with a score by Tim Phillips and Marc Teitler.
THE GRINNING MAN cast is led by Louis Maskell, in the title role of Grinpayne, and Julian Bleach, who plays Barkilphedro, a vengeful clown with a heart of lead, both reprising their roles from the Bristol run. The London cast also features Sanne den Besten, Amanda Wilkin, Julie Atherton, Sean Kingsley and Mark Anderson.
Check out the show's #StageFaves page for much more on the production and opening night, including:
Plus tons more features and all other social media content!
---
First-night video
---
Photos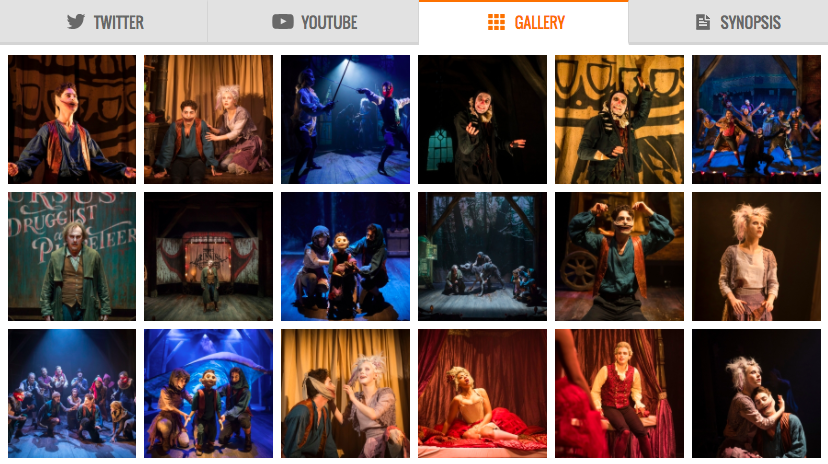 ---
First-night tweeting
Tweets about from:StageFaves @GrinningManLDN since:2017-12-18 until:2017-12-19