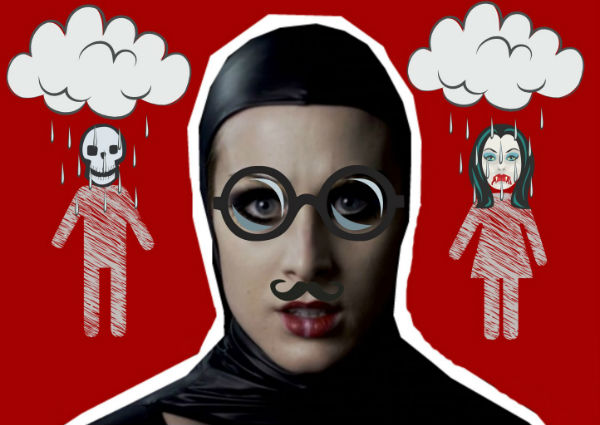 After the death of Gene Wilder, Mel Brooks has earmarked 2017/8 for a London production of the Young Frankenstein, the musical based on his film which starred Wilder as the Doctor. Far ahead of that though, another American comedy horror from 1974 gets its UK premiere: Richard Foreman and Stanley Silverman's HOTEL FOR CRIMINALS...
The producer and director behind Halbwelt Kultur, Up From Paradise, Dr. Selavy's Magic Theatre and The Cherry Orchard announces the UK premiere of HOTEL FOR CRIMINALS, written by American Avant Garde grandee Richard Foreman with music by Obie award winner Stanley Silverman. HOTEL FOR CRIMINALS opens at London's New Wimbledon Studio on 20 October, with previews from 18 October, and runs until 29 October 2016. The press performance will take place on 20 October followed by a Q&A session with composer Stanley Silverman.
.@MelBrooks' #YoungFrankenstein headed for London in 2017/8. Susan Stroman to direct again https://t.co/FaJebVzjVs pic.twitter.com/esYqaMT87S

— Terri Paddock (@TerriPaddock) September 7, 2016
Send us your audition clips for @MelBrooks! #YoungFrankenstein casting starts here (with thanks to @Irvine777) https://t.co/b7B4tCgEJ5

— StageFaves (@StageFaves) September 7, 2016
HOTEL FOR CRIMINALS is a brilliantly sophisticated and funny reworking of Louis Feuillade's silent film phantasmagoria that chronicles the foul deeds and the mysterious powers of Fantomas and his vampire gang in a Parisian hotel. The audience enters a subterranean world where no boundary, no moment, no person is ever safe or certain. Reality is bent to the whims of Fantomas's evil imagination and the literal twisted to the point of outrageous.
The UK premiere production is directed and designed by Patrick Kennedy, with music direction by Kieran Stallard. The cast includes: Kate Baxter, Nick Brittain, Niccolo Curradi, Alistair Frederick, Madelaine Jennings, Ben Rawlings, Louis Rayneau, Kris Webb and Tom Whalley.
Stanley Silverman is an award-winning American composer, who has enjoyed several decades in both the classical and popular music worlds, as well as in theater and film. Silverman's Broadway credits include Ah, Wilderness! (1998), The Capeman (1998), Uncle Vanya (1995), The Government Inspector (1994), Timon of Athens (1993), Othello (1982), The Little Foxes (1981), Bent (1979), Stages (1978), Galileo (1967), The Alchemist (1966), and the 1976 Joseph Papp and Lincoln Center revival of Three Penny Opera (starring Raul Julia, directed by Richard Foreman). His Off-Groadway credits include The Merry Wives of Windsor (1994), Black Sea Follies (1986), The Golem (1984), Up From Paradise (1983), Coriolanus (1979), Julius Caesar (1979), Dr. Selavy's Magic Theatre (1972), and Ten Nights in a Baroom (1962).