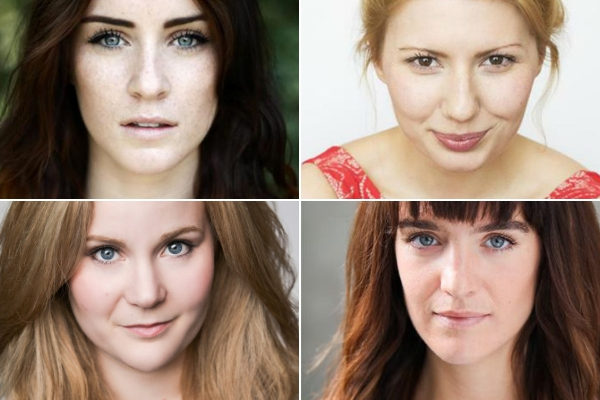 London Musical Theatre Orchestra's concert performance of Howard Goodall's Girlfriends, composed by Emmy Award-winner Howard Goodall, can be seen at London's Bishopsgate Institute on 1 and 2 November 2018 – & if the casting is anything to by, it's going to be quite a treat!
Girlfriends, by Howard Goodall (Bend It Like Beckham, The Hired Man) features an all-star cast, led by Lucie Jones as Lou (Legally Blonde, UK Eurovision Entrant 2017, Les Misérables) and Lauren Samuels as Amy (Bend It Like Beckham, Romantics Anonymous, We Will Rock You).
They are joined by Natasha Barnes as Sally (Funny Girl, Mack & Mabel), Bronté Barbé as Jane (Beautiful, Shrek UK Tour), Vikki Stone as Jasmine (Concerto For Comedian and Orchestra, Lyric Hammersmith's Aladdin and Jack & The Beanstalk) and Rob Houchen as Guy (Candide, Les Misérables, Eugenius). The ensemble includes Lisa Bridge, Charlotte Clitherow and Tara Divina. Further casting is to be announced.
The concert, directed by Bronagh Lagan, will feature new orchestrations by Simon Nathan and the composer, and the London Musical Theatre Orchestra will be conducted by Freddie Tapner and led by Debs White. The concert will also be recorded for release as a live cast album. The album will be the first publicly available recording of the show, as well as LMTO's debut album.
Girlfriends follows recruits of the Women's Auxiliary Air Force (WAAF) on an RAF Bomber Command base during the Second World War. Composer Howard Goodall said:
"My musical Girlfriends first came to the West End 30 years ago, it's been seen multiple times across the UK, in Dutch in The Netherlands and at Arlington National Cemetery in Virginia in the meantime, and now it returns to London, which is a wonderful moment for me as its composer-lyricist. We have a cast to die for, a full orchestra with magnificent new orchestrations by Simon Nathan and the gorgeous, historic surroundings of the Bishopsgate Institute to perform it in. We are also, for the first time, making a recording of it. I am beyond thrilled about all this and can't wait to see maestro Freddie Tapner raise his baton for the first bar."
Girlfriends is a London Musical Theatre Orchestra co-production with Bishopsgate Institute where LMTO is Orchestra-in-Residence.