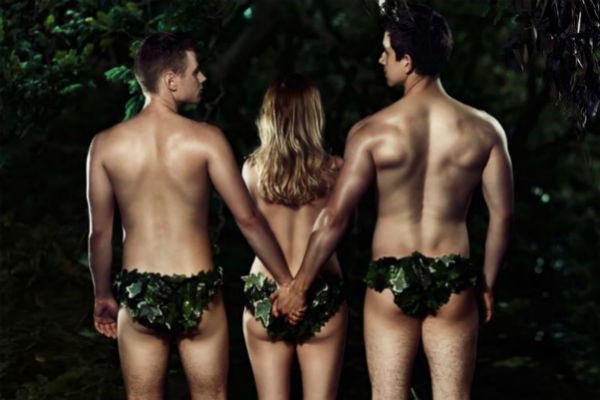 Cheeky! ADAM & EVEN... AND STEVE The American musical farce' which gives the Garden of Eden story a modern (three-way) twist, receives its London premiere at the King's Head Theatre in March, after success at this year's Edinburgh Festival...
After success in Los Angeles and Edinburgh, new musical farce ADAM & EVE … AND STEVE, set in the newly created Garden of Eden paradise, comes to London's King's Head Theatre for a limited season from 21 March to 29 April 2017, with a press night on 28 March.
The basis of every love story, every romantic ballad, and every sentimental poem ever written is man meets woman, they disagree, they resolve their differences, they fall in love. But…..ADAM & EVE … AND STEVE is the story of the first couple up to a point…everything in the Garden is going according to God's plan until the pesky Beelzebub adds the hunky Steve into the mix. Fun, mischief and mayhem ensues as Adam & Eve compete for Steve's affections and God tries to impose some order on the chaotic love tangle that ensues.
ADAM & EVE … AND STEVE won Best New Musical at the Hollywood Fringe 2015 and comes to London after a highly acclaimed run at the Edinburgh Fringe 2016. It stars Joseph Robinson (as Adam), Hayley Hampson (Eve) and Dale Adams (Steve), with Michael Christopher (God) and Stephen McGlynn (Beelzebub).
ADAM & EVE … AND STEVE has book and lyrics by Chandler Warren and original music by Wayne Moore. It's directed and choreographed by Francesca Goodridge, with musical direction by Dean Austin, set and costume design by Robert McKeown, lighting by Richard Williamson and sound by Django Holder.