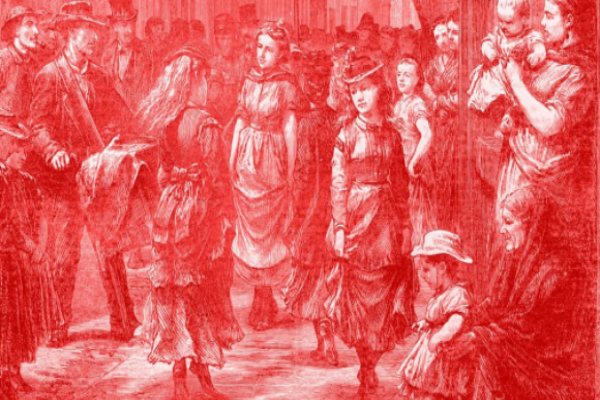 Spearheading a programme of work that celebrates the centenary year of female suffrage is the world premiere of the intriguingly titled new musical ORANGES AND ELEPHANTS. A new all-female musical written by Lil Warren and directed by Susie McKenna, we at #STageFaves think it is guaranteed to be a highlight of Hoxton Hall's spring 2018 season, Female Parts.
ORANGES AND ELEPHANTS is new all-female musical about two rival female gangs in Victorian London - an actor-musician show blending music hall, fairground and musical theatre storytelling.
The story follows Mary's arrival in London and her introduction to gang life. How will she make her life expectancy of twenty-five when the two gangs are after owning her? Mary wants to be a Music Hall star. Nellie of The Elephants falls in love with Mary and they try to escape from thievery to the bright lights of Piccadilly.
This is a story of how important your wits are to survive if you are a poor woman in Victorian London. How you play the fame game set against a backdrop of a West End pickpocket turf war and an enormous divide between the rich and poor. "Same ol gravy, different flavour."
Lil Warren has been creating for live performance for over twenty years. Her credits include Nine Lives, Ten Tales, Blackout (Soho Theatre), Lost Souls and Lunatics, Strange The Road (The Hope Theatre) and a promenade play The Changeling through Abney Park. She is currently working on a new play about the Miss World Competition. There is also a forthcoming film adaptation of Strange The Road.
Susie McKenna directs. She is currently Creative Executive Producer at Hackney Empire with the remit to develop new musical theatre for the venue - having left her role as Creative Director in January 2017. Her credits for Hackney Empire include Rudy's Rare Records, Blues in the Night, Beau Jest, Sit and Shiver, Kat and Tameka Show, La Variété, Sing Out , Alter Ego, Once on this Island and Ha Ha Hackney. Other credits include A Midsummer Night's Madness (National Black Theatre of Harlem, Hackney Empire Edinburgh Festival), A Christmas Carol (Arts Theatre London) and The Silver Sword (Coventry Belgrade Theatre, UK tour). Acting credits for theatre include Cats (Ambassadors Theatre), Ragtime (Piccadilly Theatre ), Chicago (Cambridge Theatre), The Witches of Eastwick (Drury Lane Theatre), Hair, The Rocky Horror Show, Jesus Christ Superstar and In The Midnight Hour (UK tour). For film her credits includes Jack and Sarah and Muppets Most Wanted.