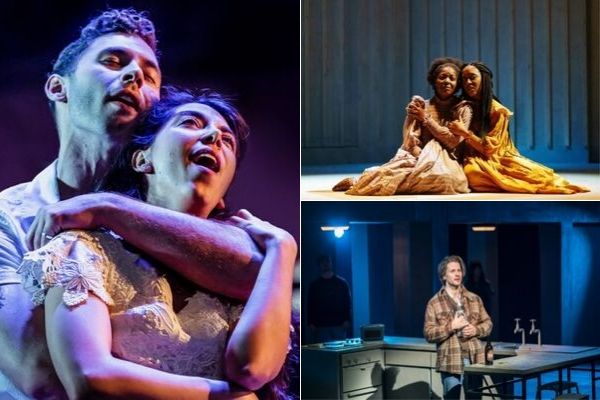 Surely we are not heading towards awards season yet again? We had better hurry up then and check out the musical theatre nominees in this year's UK Theatre Awards. Who will you be rooting for?
The nominations for Best Musical Production are Curve and Birmingham Hippodrome's The Color Purple, Standing At The Sky's Edge at Crucible Theatre, Sheffield and the Royal Exchange Manchester production of West Side Story. Audrey Brission (Amélie The Musical), Jenna Russell (The Bridges of Madison County) and Rebecca Trehearn (Sweet Charity) will battle it out in the Best Performance in a Musical category.
Julian Bird, chief executive of UK Theatre, said:
"The UK's performing arts scene has never been more multifaceted, and this year's nominations reflect an unprecedented variety of creative voices, bringing to life a broad spectrum of stories on stages around the country. It is fantastic to see so much new and rising talent among the nominees, and we look forward to bringing the industry together in celebration at the UK Theatre Awards."
This year's nominations are split into new 'On Stage' and 'Off Stage' categories, as part of a refresh of the awards to reflect the contemporary priorities of the UK's theatre industry. As part of this, UK Theatre members now have more involvement in the nomination process, can put forward shows and individuals for nomination and can submit an application for an Off Stage award.
The UK Theatre Awards are the only nationwide awards to honour and celebrate outstanding achievements in theatre throughout England, Scotland, Wales and Northern Ireland
Musical theatre nominations
Best Musical Production
The Color Purple directed by Tinuke Craig – a Curve and Birmingham Hippodrome co-production
Standing At The Sky's Edge directed by Robert Hastie – a Sheffield Theatres production
West Side Story directed by Sarah Frankcom – a Royal Exchange Theatre, Manchester production
Best Show for Children and Young People
Billionaire Boy The Musical directed by Luke Sheppard – a Nuffield Southampton Theatres production in association with Belgrade Theatre, Coventry
Noughts And Crosses directed by Esther Richardson – a Pilot Theatre and Derby Theatre production
Tale Trail To The Wind In The Willows directed by Teresa Heskins – a New Vic, Newcastle-under-Lyme production
Best Performance in a Musical
Audrey Brisson for Amélie The Musical – a Watermill Theatre, Hartshorn–Hook Productions, Selladoor Worldwide and Broadway Asia production
Jenna Russell for The Bridges Of Madison County – a Menier Chocolate Factory production
Rebecca Trehearn for Sweet Charity – a Nottingham Playhouse production
Best Supporting Performance
Esh Alladi for Hobson's Choice – a Royal Exchange Theatre, Manchester production
Jocasta Almgill for West Side Story– a Royal Exchange Theatre, Manchester production
Emmanuel Kojo for Oklahoma! – a Chichester Festival Theatre production