How did #StageFaves celebrate their Olivier Award wins on social media? Reactions from Andy Karl, Amber Riley, Adam J Bernard, Rebecca Trehearn, Andrew Lloyd Webber and the teams behind this year's award-winning shows...
After success in January at the Critics' Circle Awards, GROUNDHOG DAY nabbed another Best New Musical prize. It's official!
We're thrilled to have been awarded 'Best New Musical' at the @OlivierAwards & send a massive congratulations to @Andy_Karl for his award! pic.twitter.com/gUONTMsYzJ

— GroundhogDayMusical (@GhDMusical) April 10, 2017
And the cast of the London production - who we hope are all re-employed when the show returns to the West End next year (as Tim Minchin tipped onstage during last night's ceremony) - looked pretty excited when cast member Jack Shalloo shared this group selfie...
My friends and the winners of best new musical @ the olivers this year. I love these people. Hard work pays off ! #GroundhogDay pic.twitter.com/H0CJYSPQLv

— Jack Shalloo (@jackshalloo) April 9, 2017
Meanwhile, the Broadway opening of GROUNDHOG DAY kept Best Actor in a Musical winner Andy Karl away from the Oliviers ceremony, but he was reacting - in shock - aplenty on Twitter and with New York media on the ground for an exclusive...
What? Omg! So honored. Especially with the amazing talent in this category. Thank you @OlivierAwards https://t.co/bkCFPKd8As

— Andy Karl (@Andy_Karl) April 9, 2017
"To get a musical on stage is a like climbing Mount Everest 20 times, so I really am so proud that it paid off."... https://t.co/KT0uPduNVX

— Andy Karl (@Andy_Karl) April 9, 2017
Andy was also congratulated - with such good grace and humility - by his London co-star Andrew Langtree, who was himself nominated for Best Supporting Actor in a Musical, and Half a Sixpence's Charlie Stemp, who he beat to the prize...
@Andy_Karl Congratulations AK! Had you not won mate, I literally would have quit the profession. A towering performance from a top bloke.

— Andrew Langtree (@AndyLangtree) April 10, 2017
Arrived home after an amazing night, thank you @OlivierAwards for an awesome night and congratulations to @Andy_Karl on a well deserved win.

— Charlie Stemp (@Charlie_Stemp) April 9, 2017
Adam J Bernard, who took home Best Supporting Actor in a Musical for Dreamgirls, shows he's still young at heart...
My reaction to winning hasn't changed since I was 9. My little happy dance, now where's the Frosties??? #sograteful #olivieraward 💫🌎🙏🏾❤️ https://t.co/4lYshFisyf

— Adam J Bernard (@adamjbernard) April 10, 2017
Adam's Dreamgirls co-star Amber Riley, who gave a moving acceptance speech about how playing Effie White each night makes her confidence soar, shed copious tears of joy after winning Best Actress in a Musical - and she posted the proof on Instagram...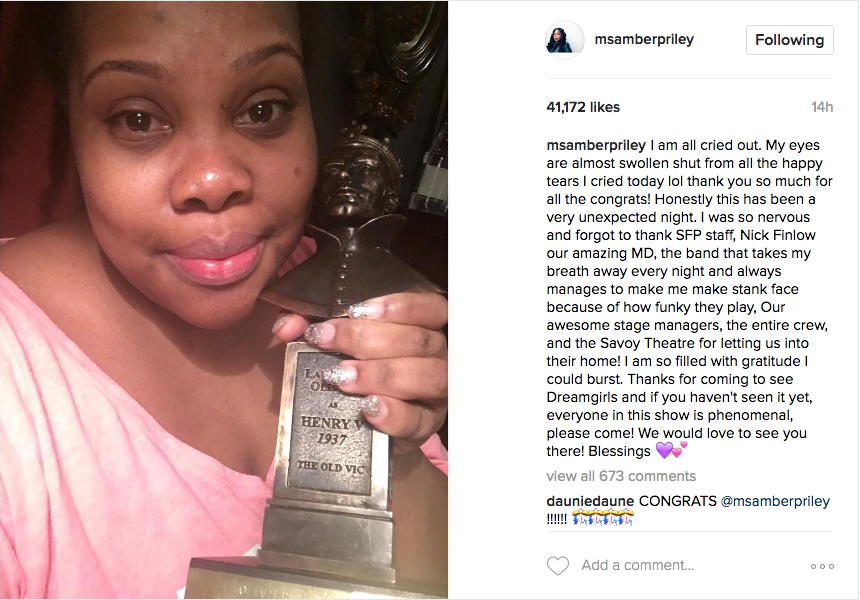 Show Boat's Best Supporting Actress in a Musical winner Rebecca Trehearn shared her own photographic proof of the Olivier statuette in her hand on Twitter, but post-ceremony celebrations kept her from responding individually to all the congratulations that came her way...
Bloody hell. pic.twitter.com/kEf18fRg1n

— Rebecca Trehearn (@RebeccaTrehearn) April 9, 2017
You are all lovely. I shall endeavour to thank you properly when I am less rancid. On cloud 9.

— Rebecca Trehearn (@RebeccaTrehearn) April 10, 2017
Continuing a theme, here's another look at Larry care of OUR LADIES OF PERPETUAL SUCCOUR, which took home Best New Comedy and is now billed as a musical for its West End transfer, opening next month...
Look at our beautiful #OlivierAward 😍 pic.twitter.com/xYuirYnYpe

— Our Ladies (@OurLadiesLDN) April 9, 2017
We love this backstage video of the insanely precocious and talented SCHOOL OF ROCK kids, who collectively won Outstanding Achievement in Music for playing their own instruments live every night...
The moment @SchoolOfRockUK get off stage after scooping their Outstanding Achievement in Music Award #OlivierAwards pic.twitter.com/y5jza1kVfq

— Olivier Awards (@OlivierAwards) April 9, 2017
And, yes, they really do rock out. As this gif of their performance at the Olivier Awards proves...
🤘🏽 #StickItToTheMan @OlivierAwards pic.twitter.com/NsMD9JO4lW

— School of Rock UK (@SchoolOfRockUK) April 9, 2017
School of Rock composer Andrew Lloyd Webber's much earlier musical JESUS CHRIST SUPERSTAR also won Best Musical Revival. He sent a congratulatory note via social...
Congratulations to the cast and creative team of Jesus Christ Superstar @openairtheatre for winning Best Revival @OlivierAwards #TeamALW https://t.co/qNPF7xVzJB

— Andrew Lloyd Webber (@OfficialALW) April 9, 2017