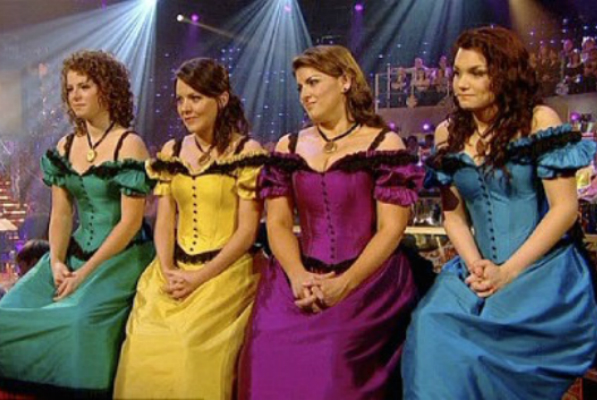 With Let It Shine such a big hit for TV and theatre, is there any chance of more theatre casting shows coming our way? Musical Theatre Appreciation Society's Dries Janssen compares it with the Andrew Lloyd Webber talent shows of old...
As a young teenager I used to watch the BBC each Saturday evening and watch great singers belt out theatre classics, trying to land a leading role in Andrew Lloyd Webber's latest theatre production. Even though I had already seen a few musicals before watching these TV shows, they are what really got me into theatre. Watching I'd Do Anything (with stars Jodie Prenger, Rachel Tucker and Samantha Barks) or Any Dream Will Do (with stars Lee Mead, Daniel Boys and Keith Jack) are some of my fondest TV-related memories.
Rachel Tucker singing 'Cabaret' in I'd Do Anything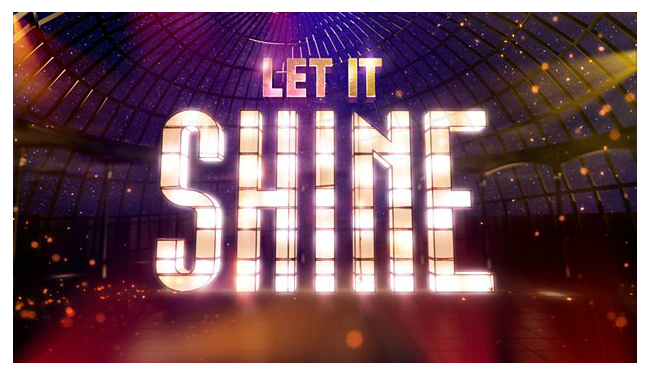 For a few years though, there weren't any of these shows on TV, until it was announced that Gary Barlow would cast his new Take That musical in the same way. I was overjoyed when I read about this.
Admittedly, when I saw the end result it wasn't completely what I had hoped for. The focus was very much on trying to find a new boyband instead of finding actors for a theatre show. Nevertheless, I enjoyed watching it a lot and at heart it was still very different from any other talent show on TV.
The key difference is that Let It Shine offered the winners an actual job instead of just a vague promise of fame. That's what makes these shows really interesting in my opinion - you know what will be next for the winner, instead of having to wait until the winner of The Voice or The X Factor finally release their mediocre debut album.
As mentioned above though, Let It Shine was far from perfect. On top of the focus being on creating a new Take That, the format was a bit strange in my opinion. By dividing the guys into bands so soon, there wasn't really a possibility for the audience to connect with any of the contestants - by the end I still didn't know half the contestants' names.
Sorry lads, but Danny, Bradley, Julius, Conor... I just didn't know who you were.
That's not your fault. It's the fault of the format. It was just way to hard to remember all your names when you only performed solo once. In the Andrew Lloyd Webber shows however, I always knew all of the contestants' names by week 3 or 4. Also, by putting them in bands so soon, you made it impossible for the public to pick the best band possible. What happened now is Jason, without a doubt the best singer in the competition by far, didn't get the job. Ideally, in the final the public should have gotten the chance to create their own band by voting for the best five guys.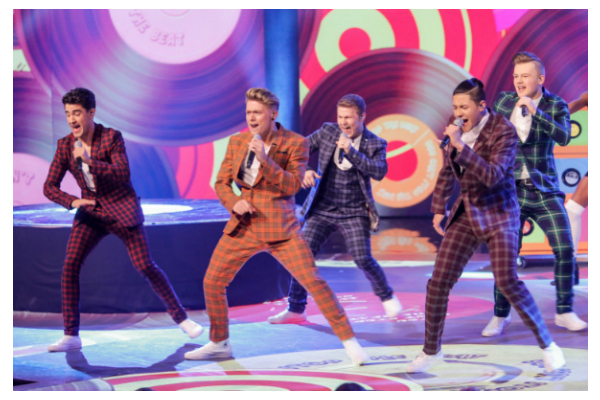 Five To Five, the winners of Let It Shine
The argument of "they have to bond in order to form a real band" doesn't really add up here. First of all they're not really a band (yet), they will be playing a fictional band in a musical. West End professionals play best friends or even lovers with just four weeks of rehearsal. I've never heard anyone complain that Elphaba and Glinda didn't seem to be real friends and the actresses should have spent more time together so they could bond more. That being said, I still enjoyed Let It Shine a lot. It almost took me back to the old days of the Andrew Lloyd Webber shows with the contestants all wearing similar outfits in different colours. I'd be lying if I said Let It Shine was as good as I'd Do Anything or the other shows, but it was good nonetheless.
But could we get some legit theatre casting shows again?
These gave us a bunch of people who would go on to build great careers in musical theatre. Stars like Ben Forster and David Hunter (from Superstar), Siobhan Dillon and Connie Fisher (from How Do You Solve A Problem Like Maria?), Lauren Samuels and Danielle Hope (from Over The Rainbow), all got their big break through this type of show.
Lee Mead singing 'Any Dream Will Do'
There are lots of options. Either Andrew Lloyd Webber could do it again - they haven't done Evita or Cats yet. Both hugely popular shows that require incredibly talented singers. Or Gary Barlow could cast one of the leads for Finding Neverland through a TV show. Either way, I want to see really talented theatre singers on the telly again. So fingers crossed.
At least in the old days they knew how to close the show each week by giving the eliminated contestant one last chance to shine. These shows seem to be the only ones that ever succeeded in giving a positive feel to each elimination. Only in these shows was a person leaving actually kind of exciting.