We all know acting is a hard profession and the theatre is a tough mistress! With that in mind, many people advocate for a backup career that you can pursue if acting doesn't work out. Blogger Becky Mary examines the idea of a backup and whether or not that might actually become the main reason you don't succeed in the arts...
When we think of acting we think of freedom, discovery and passion - the key things you need to be an actor. Many of us have done some sort acting in our lives. Whether in school or amateur groups, most of us have been exposed to some sort of acting or drama. When we are younger we're encouraged to pursue interests and new things, I mean that's how I came to loving drama and wanting to do acting. We're also very fortunate that we can do specialist qualifications in acting - these train us to get better and ultimately for a career.
A few weeks back in an interview with Kinky Boots, a woman asked the cast 'should my son have a backup plan?'. This was not taken lightly by one member of the cast. David Hunter who currently plays Charlie, expressed on social media, including his own blog, how that question affected him. He often refers to being stunned by that question. He further goes on to say that he even took him time to grab his thoughts together because it 'hit a nerve'.
Upon reading his blog (link through picture) I thought I would find a ranting post, saying why he felt unhappy and that they were in the wrong. It was far from that. Instead I found an encouraging blog, being honest about the goal of being an actor with a key line that stuck with me - 'I don't believe you can pursue your passion whilst also pursuing a backup plan. You don't have time.'
This made me realise some key things that we are told to do by various people, that could ultimately stop us from getting our dreams.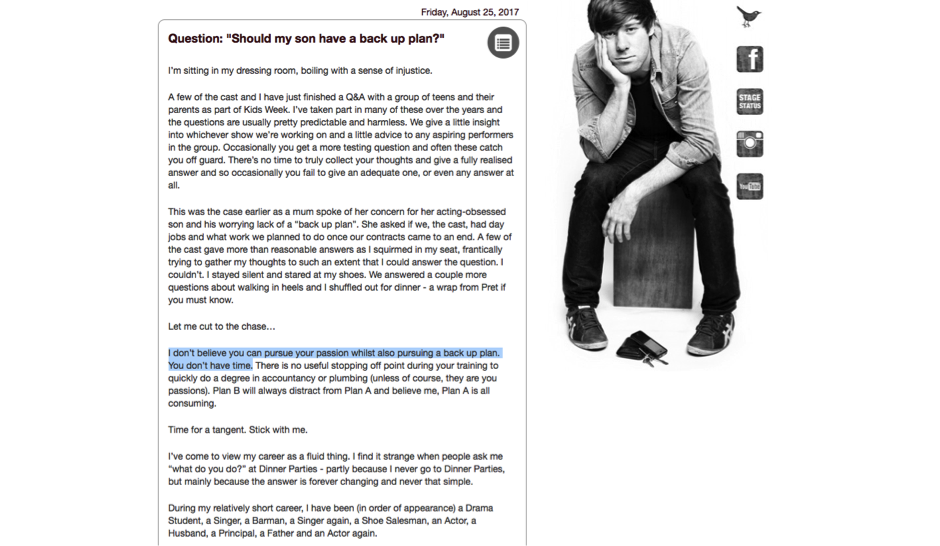 As a society we are told that we should always have a backup plan and that is prevalent throughout our education. When we apply to university we don't just apply to one, we apply to 5, when we do at A-levels we don't specialise in one or two, yet again we do four or five, often already knowing where you want to go to university and what to study.
At 16 I didn't know what I wanted and I did my A-levels not knowing what I wanted to go and study. The A-levels I took were random, things I enjoy or things I would find interesting. Let's just say that didn't work out. I then went on to do HND in Performing Arts but couldn't finish it. Finally, I did an access course at college, my access course is in midwifery…. I know what you're thinking, I don't study midwifery I study music and musical theatre. I was always told to have a backup plan, so in a panic thinking that I wasn't good enough and that there were no jobs in the industry so I decided to study something that meant after finishing a degree I would have the security of job. I got into midwifery on my first time (which is hard!) and even started the course.
Within 3-4 weeks I was unhappy. I missed being onstage, singing and playing my instruments as with such a demanding course it was impossible to do extra-curricular. It took me a lot of courage but I decided I needed to leave and needed to pursue my passion. I never thought that I would be here, now. I go to a top drama school for music and musical theatre and I have been able to expand my knowledge and love of theatre, also joining the Musical Theatre Appreciation Society and working closely with them. I do not regret the path I took, I believe that it made me more passionate.
Enough rambling about me. What I'm ultimately trying to say is if your passion is to go and do musical theatre or acting or anything within a theatre career, take the jump. Focus your passion on that. Having a backup plan can cause serious damage and overtake everything. Also don't be afraid to take gap years to find yourself and to really understand what you want to do.
We all know that a career in theatre is hard, but that doesn't stop us from pursuing it and excelling.