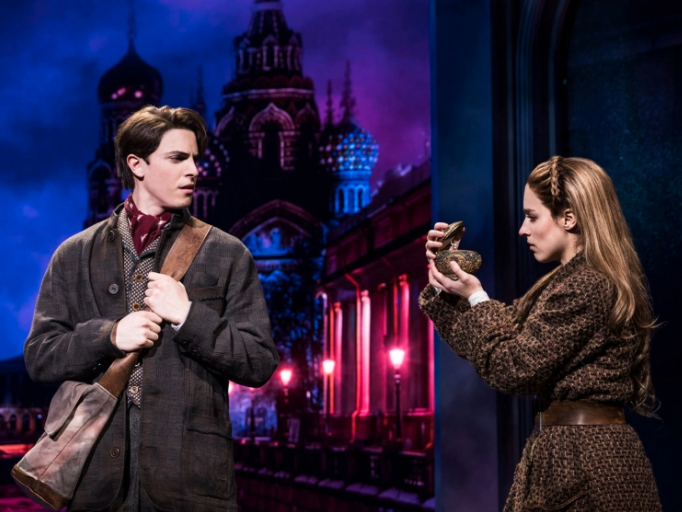 So it's official. On March 31st the Broadway production of ANASTASIA will take one last Journey to the Past. If you need a moment to wipe away a little tear and celebrate this fabulous stage adaptation, now is your chance... says Chloe Fry.
For those who may not be familiar with the story, ANASTASIA - with music and lyrics by Lynn Ahrens and Stephen Flaherty and based on the 1997 film of the same name - adapts the legend of the Grand Duchess Anastasia Nikolaevna of Russia, who could have escaped the execution of her family. Years later, an amnesiac orphan named Anya hopes to find some trace of her family by siding with two con men who wish to take advantage of her likeness to the Grand Duchess.
I was lucky enough to see Anastasia on my trip to Broadway last year and I honestly cannot begin to explain how devastated I am over the news that it's closing. This production is brave, it's beautiful and one I wish thousands and thousands of young girls all across the world could see. But instead of focusing on the pain of having to say goodbye to one of my favourite shows, I thought I could perhaps share some of the reasons why I think Anastasia the Musical is so special.
One of my favourite aspects of this production is its honesty. If you're familiar with the film I'm sure you'll remember big bad Rasputin who casts a spell and causes the Russian people to revolt. Obviously an animated feature film wants to be child friendly and wants to sugar coat true horrors. In comparison, Anastasia the Musical offers audiences a frighteningly honest and hauntingly tragic glimpse into the lives of those living during the Russian Revolution. I couldn't help but feel as though this approach is far more respectful to those who suffered and lost their lives during this time. I honestly don't think I will forget the staging of the production for a very long time.
Similarly, the detail in this production is just remarkable. It has big set pieces depicting the beautiful landscapes of St Petersburg and Paris, stunning props like Anya's music box, and simply stunning costumes. However what caught my attention most were the small and very accurate details. Details which prove just how much care producers have put into this production. One of my favourite examples was the scene where Anya tells Dimitri that a nurse found a diamond sewn into her underwear. It's widely reported that in 1918 Anastasia and her sisters began to conceal pearls, brooches and diamonds into the family's clothing, underwear and hats as they prepared to be taken from their home.
Another wonderfully elegant detail were the Romanov sisters' head dresses. See the below photos of the cast and a photo of the real Anastaisa in her practically identical head dress. The inclusion of small details such as these help remind audiences that the story may be based on a legend, but the legend comes from a real family.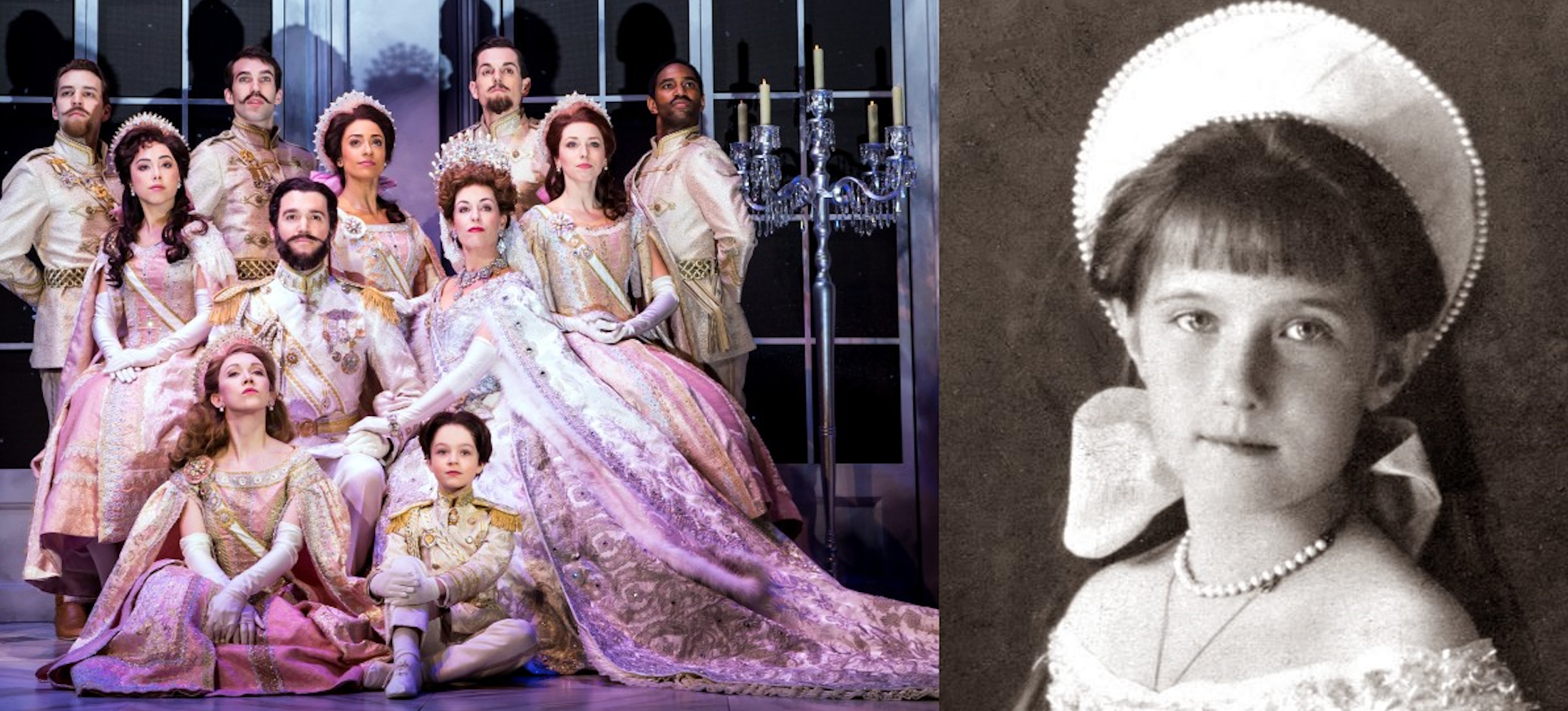 So, onto the next point. This may seem a little off-topic but hear me out. A few years ago my Nan passed away. She was one of the most important people in my world and I felt (and still feel) truly lost without her. As you can imagine, a musical about a young woman being reunited with her beloved Nonna will always instantly appeal to me. What I didn't expect however, was to be reduced to a sobbing wreck in the stalls. In a way, this musical offered a beautiful sense of closure for my own loss.
Onto the songs. The music in this production is just something else. The show has a mixture of remastered songs from the film like "Learn to Do It" and "A Rumour in St Petersburg" and a range of new brilliant new numbers like "My Petersburg" and "Stay I Pray You". Every day I seem to have a new favourite track but after seeing the show live there is one song which will forever stand above all others. "Journey to the Past" is the big end of Act 1 number and is simply immense.
Picture the scene. We've been building up to this moment throughout the whole act. Christy is stood centre stage and is basically blowing the audience away. The song finishes and the audience erupt into a frenzy of applause and there I am, sat glossy eyed and completely lost for words. I have never experienced a moment as powerful as watching Christy Altomare sing "Journey to the Past" live and I don't think I will ever again.
The Grand Duchess Anastaisa Nikolaevna Romanov was only 17 years old when she was killed. It is reported that in an early diary note Anastasia once wrote:
"Someday I will do something bigger than what I am". And that you have my darling. Your story has inspired thousands of girls to be brave, to be confident and to be fearless. You may have been denied the chance of finishing your story but the folks over on Broadway have honoured you in a truly beautiful manner. You will be remembered.
I've had a feeling this news may have been coming for a little while, but it doesn't make it any easier to accept. I am honestly heart-broken that New York has to say goodbye to Anya, but I can only hope that the production continues to go from strength to strength across the globe. There may be a rumour in St Petersburg but unfortunately there aren't any about a West End transfer in London at the moment. I guess I'll just have to continue living in hope of getting to see this production once again...