Faves founder Terri Paddock chaired a Q&A with THROUGH THE MILL's three Judy Garlands - #StageFaves Helen Sheals, Lucy Penrose and Belinda Wollaston - after Wednesday evening's performance at Southwark Playhouse. Catch up on photos, podcast and video here...

I first saw – and adored – Through the Mill when it premiered at the London Theatre Workshop (then above a pub in Fulham) last year. I was delighted when the show, which revolves around three pivotal periods in the life of Judy Garland, announced its transfer to the – much larger, more centrally located – Southwark Playhouse for this month's limited season. And even more delighted when producer Skye Crawford asked me to chair last night's post-show Q&A with writer/director (and London Theatre Workshop artistic director) Ray Rackham and his "three Judys" – Lucy Penrose, Belinda Wollaston and Helen Sheals.
The women – all reprising their roles, along with the rest of the company, from last year – play Garland, respectively: in the 1930s on the cusp of finding fame in The Wizard of Oz, in 1951 as she prepares her comeback concert at New York's Palace Theater, and in 1963 during a fraught first season of The Judy Garland Show on CBS television.
Rather than concentrating on (though certainly not ignoring) tragic elements of her personal life, Through the Mill celebrates Garland's triumphs and resilience, exploring the woman behind the legend.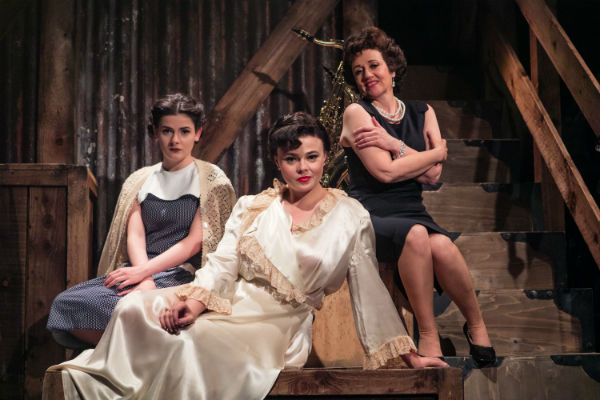 The three Judys are backed by a 13-strong ensemble of actor-musicians playing the supporting men (plus female dresser and domineering stage mother) in her life and countless instruments, as Through the Mill also incorporates many signature Garland numbers including The Trolley Song, Get Happy, Zing Went the Strings Of My Heart, Over the Rainbow (of course) and The Man That Got Away, which contains the lyric from which the show derives its title.
How was Ray inspired by a dinner party conversation to write Through the Mill? What's the secret of Garland's enduring legacy? Why three Judys? How do you reconcile physical differences between the three actresses and mine mannerisms? Why were particular Garland numbers chosen to include? How has the show, and the performances changed, since the original 2015 run? What's the difference between a play with music and a musical? Why the tramp costume…?
Have a listen to the unedited podcast from last night's post-show event – the women came straight back onstage after the curtain call, still in costume! (so tramp attire explained in full) – for some of the answers and more questions, as well as the lifelong personal connections each of the actresses have had with Judy Garland, photos from the event care of Anthony Kelly and a short Facebook Live video with yours truly speaking to producer Skye Crawford and writer/director Ray Rackham at the interval. Also check out Through the Mill's Stage Faves page for live-tweeting of the event and production photos care of Darren Bell.
---
On podcast
---
On Facebook Live