Ahead of opening tonight (16 March 2017), THE FROGS had a very special visitor at Jermyn Street Theatre last night - none other than Broadway legend Nathan Lane, who was also co-writer and star of the show's 2004 New York staging. And, yep, he posed for pics...
Nathan Lane, whose 2004 Broadway version of Stephen Sondheim's THE FROGS - an hilarious send up of Greek comedy and satire - has its UK premiere tonight, attended the show last night at Jermyn Street Theatre in London's West End. Afterwards, he happily posed for photos with the creative team and cast, including Michael Matus, who plays his central role of Dionysos, and co-star George Rae (Xanthias), then joined them all for drinks after the show in the nearby Getti restaurant.
Lane - about to open as the McCarthyist lawyer Roy Cohn in Tony Kushner's epic two-part play Angels in America: A Gay Fantasia on National Themes at the National Theatre - has been in constant touch with director/producer Grace Wessels, and sent the London team additional material he wrote and not seen in the Broadway version of the show.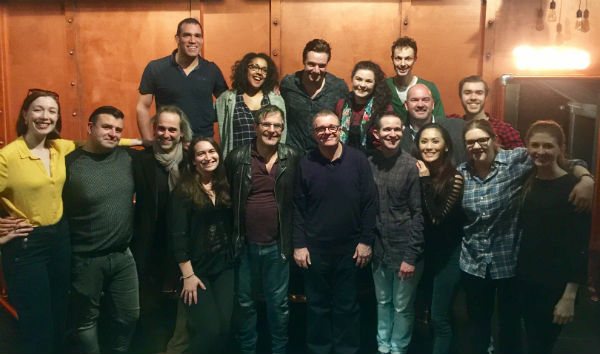 Loosely based on Aristophanes 405 BC comedy, THE FROGS musical was first adapted by Burt Shevelove with music and lyrics by Stephen Sondheim, performed at Yale University's gymnasium swimming pool in 1974 with an ensemble including Sigourney Weaver and Meryl Streep. It was Nathan Lane who, in 2001, decided to expand and restage THE FROGS, with seven additional songs by Sondheim. He said:
"After September 11 ... I started to think, There's something in this piece right now. ... There's something idealistic about the notion of someone believing that the arts can make a difference ... I found it moving, in light of what is going on in the world."
THE FROGS has proved to be one of the hottest, fastest-selling tickets in London, and the entire run has sold out before press night. Its limited run at Jermyn Street ends on 8 April 2017.
---
Speaking of THE FROGS and photos, we love this group shot that co-star George Rae tweeted us of him and his fellow cast members. We get croaked up just thinking about them...
Look at my lovely castmates! #tadpoles #awesomedudes 🐸 pic.twitter.com/UIXUX8QRn8

— George Rae (@GeorgeRaeActor) March 15, 2017