Queen of the Mist, Michael John LaChiusa's award-winning musical based on the incredible true story of a groudnbreaking woman, will receive its professional UK premiere at the Jack Theatre next month, when Pint of Wine Theatre Company stage the show from 9 to 27 April 2019.
Queen of the Mist is inspired by the the astounding and outrageous tale of fearless Anna Edson Taylor who, in 1901, on her 63rd birthday, set out to be the first person to survive a trip over Niagara Falls in a barrel of her own design. The musical explores the fickle world of celebrity and sensationalism at the turn of the century with an unconventional heroine determined not to live an ordinary life. With a soaring score that incorporates turn of the century themes with LaChiusa's insightful and engaging style, this award-winning musical is the story of how one woman risked death so that she could live.
The show premiered off-Broadway in the autumn of 2011 as part of Transport Group's 20th Century Project. It received positive reviews, won the Outer Critics Circle Award for Outstanding New Off-Broadway Musical and was nominated for six Drama Desk Awards, including Outstanding Musical.
It is one of many off-Broadway productions written by LaChiusa. Others include First Lady Suite, First Daughter Suite, Little Fish and Giant. He has also had productions staged on Broadway, including Marie Christine and The Wild Party, which also ran at London's The Other Palace in 2017.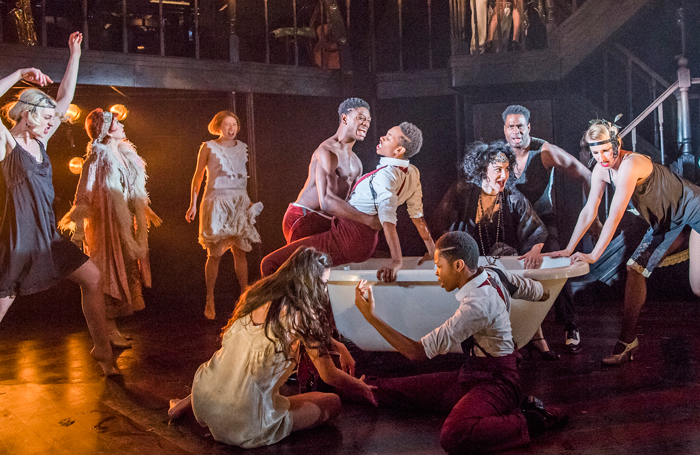 LaChiusa's The Wild Party at The Other Palace
The cast of Queen of the Mist is led by Trudi Camilleri (Ragtime and Death Takes a Holiday, Charing Cross Theatre) as Anna Edson Taylor. She is joined in the production by Will Arundell (Mack & Mabel, London Musical Theatre Orchestra), Emily Juler (Jerry Springer: The Opera, Stockwell Playhouse), Emma Ralston (Bananaman: The Musical, Southwark Playhouse), Tom Blackmore (Grindr: The Opera, Above the Stag), Conor McFarlane (Assassins, Pleasance Theatre) and Andrew Carter (Choir of Man, Edinburgh Fringe and World Tour).
Dom O'Hanlon directs the show. He has previously worked on productions including john & jen (Drayton Arms Theatre), Damn Yankees (Jack Studio) and I Love You Because (Theatros Technis). For Queen of the Mist, he works alongside award-winning musical director Jordan Li-Smith whose credits include The Assassination Of Katie Hopkins (Theatr Clwyd) and Ragtime (Charing Cross Theatre).
Pint of Wine Theatre Company is an innovative theatre company providing opportunities for artists, technicians and practitioners to challenge the conventions on how theatre should be presented. They aim to challenge the conventions of how theatre should be presented and look to be disruptive in what is understood of, and expected from, the London fringe theatre scene. Previous productions include Let The Debauchery Begin, a cabaret staged at the CLF Art Cafe in April 2018.