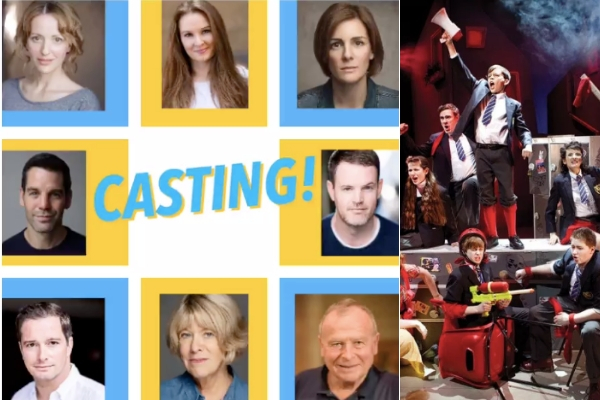 Time to find out who will be attending the West End class for Jake Brunger and Pippa Cleary's musical stage adaptation of Sue Townsend's The Secret Diary of Adrian Mole aged 13¾ – The Musical, opening for business at the Ambassadors Theatre on 15 June 2019 for a limited season. All in a neat and ordered queue please…
The Secret Diary of Adrian Mole aged 13¾ – The Musical will open at the Ambassadors Theatre for a limited season from 15 June until 12 October 2019, with a gala night on 2 July 2019. The musical has book and lyrics by Jake Brunger, music and lyrics by Pippa Cleary and direction by Luke Sheppard.
The adult cast includes Rosemary Ashe as Grandma, Lara Denning as Miss Elf/Doreen Slater, John Hopkins as Mr Lucas/Mr Scruton, Andrew Langtree as George, Amy Ellen Richardson as Pauline and Ian Talbot as Bert Baxtor. Also in the cast are Holly Ashton and Mathew Craig. The children's cast is to be announced.
Set in 1980s Leicester, this adaptation of Sue Townsend's best-selling book (previously seen at Leicester's Curve theatre in 2015 and the Menier Chocolate Factory in 2017) is a timeless tale of teenage angst, family struggles and unrequited love, told through the eyes of tortured poet and misunderstood intellectual Adrian Mole. One of the most enduring comedy characters of all time, he is the hapless, hilarious, spotty teenager who captured the zeitgeist of 1980s Britain, and this critically acclaimed production brings Adrian's story to life for a new generation of theatregoers.