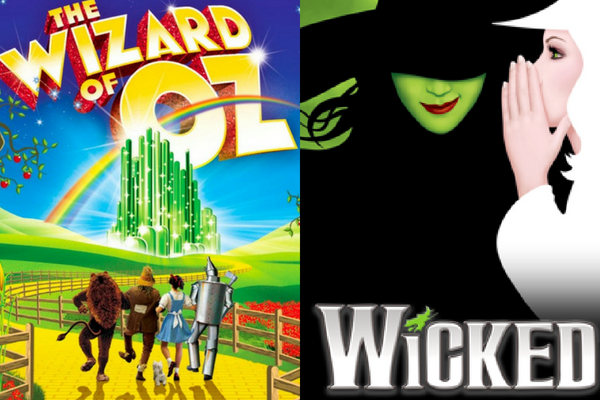 WICKED, the hit musical, tells the story of what happened before Dorothy dropped into Oz. It opened in London's West End in September 2006 and has been enthralling audiences ever since with gravity-defying moments of theatre magic… BUT GUESS WHAT?! You definitely missed some hidden eggs inside this magical land, all the way from the Badlands to Munchkinland… Here are some references that link the two tales together.
A large amount of Wicked's appeal is that it flips familiar material on its head and forces audiences to reconsider what they may initially perceive as "Wicked" or "Good". Unsurprisingly, Stephen Schwartz and Winnie Holzman's adaption of Gregory Maguire's prequel to The Wizard of Oz has the odd reference referring to the original source material that inspired the phenomenon. Have you spotted them all?
WARNING: this post contains Wicked plot spoilers so for people who have not seen the show, you have been warned
Why is the Green Girl called Elphaba?
So why is the girl with the Emerald complexion known as Elphaba Thropp? She is so-named because Elphaba is a made-up name by Maguire using the initials of Leonard Franklin Baum, the original author of The Wizard of Oz! "L-F-B" = Elphaba! Say them phonetically and you'll never hear it another way again!
Somewhere Over the Rainbow
Believe it or not, that iconic number, so lovingly sung by Judy Garland in the 1939 film version of The Wizard of Oz, is hidden in the score of Wicked. The "unlimited motif" that appears in the opening,
'The Wizard and I', 'Defying Gravity' and 'For Good' contains the first seven notes of 'Somewhere over the Rainbow' but is orchestrated in such a way that the phrase is almost unrecognisable. Stephen Schwartz, the composer, remarked in an interview once that if he had used the first eight notes he would be breaching copyright so he stuck with seven.
So happy she could melt!
During Elphaba's bubbly opening number 'The Wizard and I', she sings of how her life might be different with the Wonderful Wizard of Oz on her side. At the climax of the song she belts that if she ever met the Wizard she'd "be so happy [she] could…melt!" If only she knew how ironic this statement was...
So keep dancing through…
'Dancing Through Life' has a whole treasure trove of Wizard of Oz easter eggs, from lyrics to musical motifs. Fiyero attempts to be a bad influence on his new classmates at Shiz University and shares that he thinks "life's more painless for the brainless". Little does he know that later down the line he'll be wishing he had that brain after all…
Fiyero succeeds in convincing his peers to slack off and go dancing at the Ozdust Ballroom. During the party, Elphaba's sister Nessarose and Boq (her Munchkin classmate) are talking by the punchbowl. Nessarose asks Boq "What's in the punch?" and he replies "Lemons and melons and pears.", to which Nessarose promptly replies "Oh my!" This little exchange is a nod to a number in the musical adaption of The Wizard of Oz about various woodland fauna i.e. "Lions and tigers and bears! Oh my!"
Later on, Boq is psyching himself up to go and speak to Glinda about his feelings for her but changes his mind last minute. When explaining to Nessarose why he asked her to the party, he stutters on the phrase "because, uh because, because" which could be a nod to the repetition of that word particular word in 'We're Off to See the Wizard' from The Wizard of Oz.
One Short Day in the Emerald City
Elphaba and Glinda eventually travel to the Ozmopolitan capital of Oz to meet the Wizard. Their sightseeing is captured in the rousing ensemble number 'One Short Day'. If you listen very carefully when Elphaba sings "so I'll be back for good some day…", you can hear the woodwind playing the melody of 'Optimistic Voices' from The Wizard of Oz. It's very subtle but you can't unhear it once you notice.
Unfortunately, Elphaba's meeting with the Wizard doesn't go entirely to plan: she runs off after discovering his hidden agenda to use her magical powers to suppress the voices and rights of speaking Animals in Oz. Glinda tries and fails to talk her down during the 11 o'clock number 'Defying Gravity'. Have you noticed that when Glinda sings: "I don't think you understand you're having delusions of grandeur", it sounds an awful lot like "Follow the yellow brick road…". So many hidden phrases in this score.
The Wicked Witch of the East
This number towards the top of the second act does not feature on the cast recording due to the major plot points it contains. There are a number of references to the original source material in this pivotal song in the show. First of all, when Elphaba turns up at Nessarose's residence she greets her with the phrase "There's no place like home", synonymously uttered by Dorothy as she leaves Oz.
Boq, who has quite the number of #throwback phrases also sings that he "lost his heart" to Glinda the first day he met her. If only he knew what it really meant to lose his heart… He certainly does find out soon after that when Nessarose's attempt at a magic spell goes wrong.
So whether you've only dreamed of seeing Wicked or have seen it dozens of times, you may or may not have realised just how multi-layered the epic score is. Hats off to Holzman and Schwartz for their clever writing. They certainly aren't "brainless"!
Price:
from £15.00 to £35.00
Running time:
2 hours 45 minutes (incl. interval)