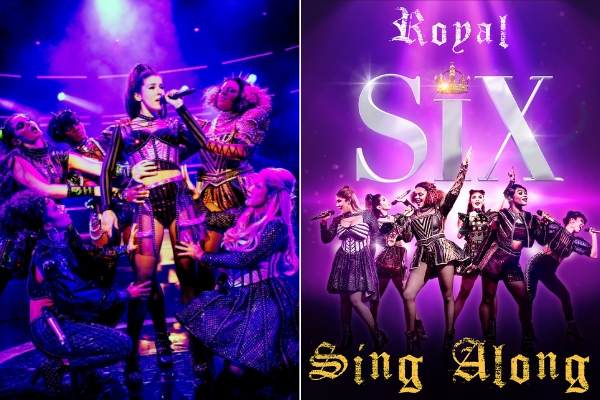 Fans of Six, the concert-style hit musical featuring the six wives of Henry VIII as a girl group, are to get the chance to be Queen for a night at the show's first Sing Along show in the West End on 6 June 2019. Are you willing to lose your head?
Toby Marlow and Lucy Moss' show Six has built up a large and enthusiastic fanbase who have followed it from the Edinburgh Fringe to its permanent West End home at the Arts Theatre. And for many, the temptation to join in with the show's catchy hits like Catherine of Aragon's 'No Way', Anna of Cleves' 'Get Down', and the anthems 'Ex-Wives' and 'Six' can be almost unbearable. Now, for one night only, audience members will be able to sing their favourite songs along with the cast.
The audience at 8.30pm on 6 June 2019 might also like to come dressed as their favourite Tudor-pop star from the show, or just dress to impress. One audience member will be crowned 'Queen for the Night' and receive a unique Singalong SIX poster signed by the cast from that night's show.
The Six Studio Cast Album has been played more than six million times, gets 60,000 streams a day and was Winner of Best UK Cast Recording in The Curtain Up Show Album of The Year Awards 2018. Six is booking until January 2020.

Writers Lucy Moss and Toby Marlow, speaking from Chicago where they are casting the first US production of Six, said:
"OMG this is going to be so much fun! We honestly have the best fans in the West End and they are going to Take. The. Roof. Off. The. Arts. Theatre!! Ever since the album was released we have been blown away by the engagement and support from everyone – we are constantly amazed by videos people post online singing/dancing/lip-syncing along to the the tracks.
"It's so wonderful to see how much these songs mean to some people and so we cannot wait to give them a chance to get their Queen on! We really hope our Sing Along Six night will be a chance for our energetic, passionate audiences to be a step closer to our talented cast. This unique performance promises a royal (!!) night at the theatre, a celebration party and a pop concert all in one. We can't wait to be there to join in the fun!"