Who's who in the much-anticipated London debut of the Gershwins' and George S Kaufman's 1927 musical STRIKE UP THE BAND? Catch up on casting, sneak-peek rehearsal shots and our new competition for the show, running 6 to 31 March 2019 at Upstairs at the Gatehouse.
Written with George S Kaufman in 1927, the original script for Strike Up The Band was rewritten by Morrie Ryskind in 1930. This production presents the original, with the dark satire on America's war-mongering over a trade deal re-established.
In 1927, Horace J Fletcher is a typical self-made American businessman. His cheese factory dominates the market, he influences the White House, and he's secured his business future by agreeing to marry his daughter, Joan, to his factory manager. He does have one problem. Switzerland has the audacity to protest America's heavy new tariff on imported cheese.

Fletcher convinces the US government to declare war, backing it with his bucks. Jim Townsend, a newspaperman, suspects all may not be wholesome, but he and Joan fall for each other. Will making the world safe for American cheese be more than just a walk in the Alps?
Richard Emerson plays 'typical self-made American businessman' Horace J Fletcher. His recent credits include Chess at the ENO, Alain Boublil's Manhattan Parisienne at The Other Palace and How To Succeed in Business Without Really Trying at Wilton's Music Hall.
He is joined by Beth Burrows (Looking for Gatsby, Sirens of the Silver Screen) as Horace's daughter Joan Fletcher, Paul Biggin (founding member of sketch group Late Night Gimp Fight) as Jim Townsend, Charlotte Christensen (The Divide, Old Vic Theatre) as Anne Draper, Robert Finlayson (The Phantom of the Opera, Her Majesty's Theatre) as Colonel Holmes, David Francis (Les Misérables international tour), Sammy Graham (It's Only Life, Union Theatre) as Bob, Nicholas McBride (Code 2021, Secret Studio Lab) as C Edgar Sloane, Adam Scott Pringle (Newsrevue, Canal Cafe Theatre) as Timothy Harper, and Pippa Winslow (The Sound of Music UK tour) as Mrs Draper.
Director and producer Mark Giesser has written, directed and produced extensively in both Off-Broadway and London Fringe venues. He's joined in the creative team by musical director Bobby Goulder, lighting designer William Leighton, set designer Camille Etchart, costume designer Giulia Scrimieri and choreographer Orley Quick. Strike Up The Band is presented by Alces Productions.
---
Rehearsal photos
For the full gallery, view the show's StageFaves page.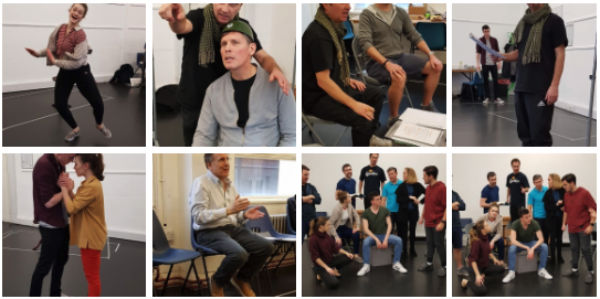 ---
Enter to win by 11 March
We're giving away five pairs of tickets. Deadline for entry is 11am on Monday 11 March 2019.