How many Stargate conventions have you been to? Suanne Braun, who played Goddess Hathor, has been to, and been feted at, quite a few. Her sci-fi experiences have been a boon while preparing for her new stage role in the world premiere of FANATICAL...
In a distant Galaxy - the ragtag misfit crew of cargo ship Angel 8 are under the command of fearless pilot Iris Aucht.
Meanwhile…at a conference centre, somewhere in England – a ragtag misfit collection of 1,000 fans gather from all across the UK for Eight Con One, the first ever official convention of the cult TV show Angel 8.
Angel 8 started as a comic created by reclusive British Sci-fi author Scott Furnish. Its first TV outing ended on a shocking cliffhanger. With eager anticipation at the promise of a second series, these enthusiastic devotees have come together to celebrate their beloved series and to meet Scott face-to-face and hear his keynote speech.
FANATICAL tells the suspenseful, comic, and affecting tale about being true to oneself, finding love against the odds, and snatching triumph from the jaws of disaster - proving that no power in the universe can keep a story from its fans. Music and lyrics are by Matt Board and the book is by Reina Hardy.
---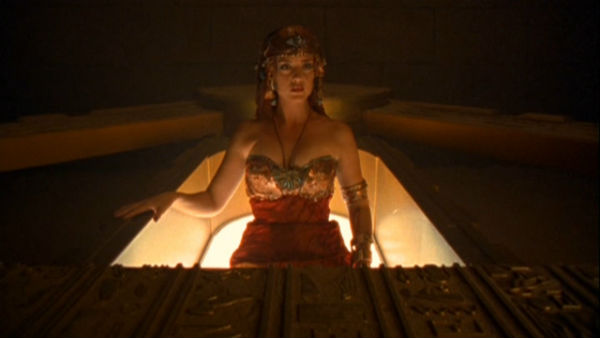 Suanne Braun as Goddess Hathor in Stargate


Talking to... Suanne Braun
Suanne Braun is no stranger to sci-fi fandom - which was a big part of the appeal for starring in the world premiere run of FANATICAL.
Tell us about your own sci-fi credentials.
I've been very lucky within the sci-fi world, having played in several iconic series. I was Goddess Hathor in Stargate (still one of favourite experiences ever), a cop in Red Dwarf XI, a High Narn Priestess in Babylon Five for an online game and, finally, a robot in Starhyke.
Stargate was just a joy from start to finish. We had no idea then that the show would have the enduring popularity it has today, but I do remember thinking that we might be on to a good thing with the combination of people they had. Richard Dean Anderson is a real prankster and used to play tricks on me all the time so every time I had to do anything sexy or provocative, Richard (or Chris Judge who played Tealc) would play a prank on me. I loved that as it helped me relax and also because I am known to play a prank or two so I got my revenge on them. (Wait - where is that evil laughter coming from?)
How many sci-fi conventions have you been to?
I have been to a few! Some of the best have included Comic Con, Dragon Con in Atlanta, Armageddon in Australia and New Zealand and, of course, the ultimate Stargate convention, Gatecon. I'm actually attending one during the musical's run on 18 November called Cal-Mah. It's an event specifically for Stargate fans, and I believe some of them are coming to see FANATICAL.
Conventions are extraordinary events. So many people under one roof all sharing their love for their favourite show. Some of the costumes and cosplay stuff is incredible. The fans are so loyal, loving, supportive and kind. I really love our fans. I have been particularly touched how many have travelled from far and wide to meet me on several occasions.
I have many memorable anecdotes so it's hard to choose only one, but the one that always stays with me was when I was flown to Australia for my very first con. I had no idea what to expect and wasn't quite sure if there'd be two people, 20 people or nobody on the other side when I landed. I nervously walked through the arrivals gate and into a sea of about 100 people, shouting my name with banners and posters of Stargate and Hathor. For two weeks, I was treated like (pardon the pun) an absolute goddess. I couldn't believe it and still have to pinch myself now at how lucky I have been and how good Hathor and Stargate continue to be to me.
More cosplayers #MCMcomiccon #MCMLondon pic.twitter.com/hbfr5hx9C3

— Harley Mathieson (@Clockworkable) October 26, 2018
Are you a sci-fi fan yourself?
I'm not a massive sci-fi fan. I really enjoy Doctor Who (I would love to be in it one day) and the Star Wars, films but other than that not so much. My husband is totally into sci-fi, though, and so he makes up for my lack of knowledge in other shows.
What attracted you to Fanatical?
I haven't seen this story on stage before and loved that it represents a world I now know something about. Also, there are so many misconceptions about sci-fi conventions and the fandom, and I think the writers, Matt and Reina, have addressed this in a really fresh and original way. I thought the script was charming. I remember loving Galaxy Quest when that first came out and this has a similar feel. Not plot-wise but a similar feel where it offers a loving but also sometimes self-deprecating look at this world.
Tell us about your character.
I play the convention organiser who is called Trix Lately. Brilliant name, right? She is an über fan of the fictitious series Angel 8 and, in particular, the writer of the series, Scott Furnish, played by the fabulous Stephen Frost. Over the course of the show, she has to deal with various calamities, and I love that she just has to keep frantically juggling throughout the piece. Like a duck who is seemingly calm on the surface of the water but paddling like mad underneath it all.
What's your favourite song from the show?
There are a few: "You Should See Her Fly", "Look What I Made", "Best Con Ever" and "Fanatical". They are all totally different and I love that about them. Matt Board, our composer, has a real dexterity with lyrics and so some songs feel very lyrical and opulent and others are Sondheim-esque. Then there are some that are just downright catchy and you find yourself humming them all week end. Or ALL THE TIME... Thanks Matt!
Anything else you'd like to add?
We look forward to welcoming you into the world of Angel Eight and the secret of the fish… To make sense of that, you'll have to come see us.
---
Enter to win tickets by 12 November