We can't stop thinking about holidays here at Stage Faves HQ - Sun, Sea and Singing Musicals! West End gossip tends to go a little quiet in the summer season with some shows coming to a close (sigh) and others heading off on tour, but there's always an abundance of shows to keep us busy!
The summer holiday season got us thinking about all the performers stepping out onstage each night. When do they get time off? Where do they go on holiday? What's on their summer playlist?
Thus our #SummerMusicalMoment series was born and to kick it off we've rounded up some holiday Tweets from your #StageFaves so you can find out what they're doing with their precious downtime...

Barbara Drennan took herself to where the sea gleams a beautiful blue (or is that turquoise? Either way, it's prettier that a dressing room!).
Well good morning! #minibreak #r&r #breathe xx pic.twitter.com/SKogQ9nb2R

— Barbara Drennan (@barbaradrennan) July 19, 2017
Thomas Inge taunted us with his tootsies as he hung out by the pool
Life... 🤙🏽☀️💦🌴 #goodmorning pic.twitter.com/xPoS0NxQpy

— THOMAS INGE (@ThomasInge94) July 19, 2017
Irvine Iqbal likes to live it large in IBIZA BABY!!!
Great Weather here @PikesHotel with @EduardoEnrikez #ibiza2017 #pikes2017 #poolside pic.twitter.com/NgSe5tXR2V

— The Sultan 👳🏾 (@Irvine777) July 20, 2017
Whereas Amanda Holden prefers some family time with her girls...
#girls #holiday #finallygettobemama pic.twitter.com/LwNS3W1tda

— Amanda Holden (@AmandaHolden) July 11, 2017
😎 pic.twitter.com/2q4kiLjAnj

— Amanda Holden (@AmandaHolden) July 12, 2017
Richard Munday likes to bring the holiday spirit to him, taking advantage of the beautiful scenery that accompanies touring life!
#shropshirehills you are a cycling paradise. Perks of this touring malarkey pic.twitter.com/GScKdSANV0

— Richard Munday (@RichardSMunday) July 20, 2017
Whereas Matt Blaker can't help but mourn the end of his holiday retreat!
Alright I'd like to go back now.... #postholidayblues #Ibiza❤️ pic.twitter.com/4xntpixWqX

— Matt Blaker (@MattBlaker) July 19, 2017
And finally, Ben Forster gives us an insight into his holiday style, reminiscing over his recent trip to Crete. Pass us a Lilo Ben, we're coming with you next time!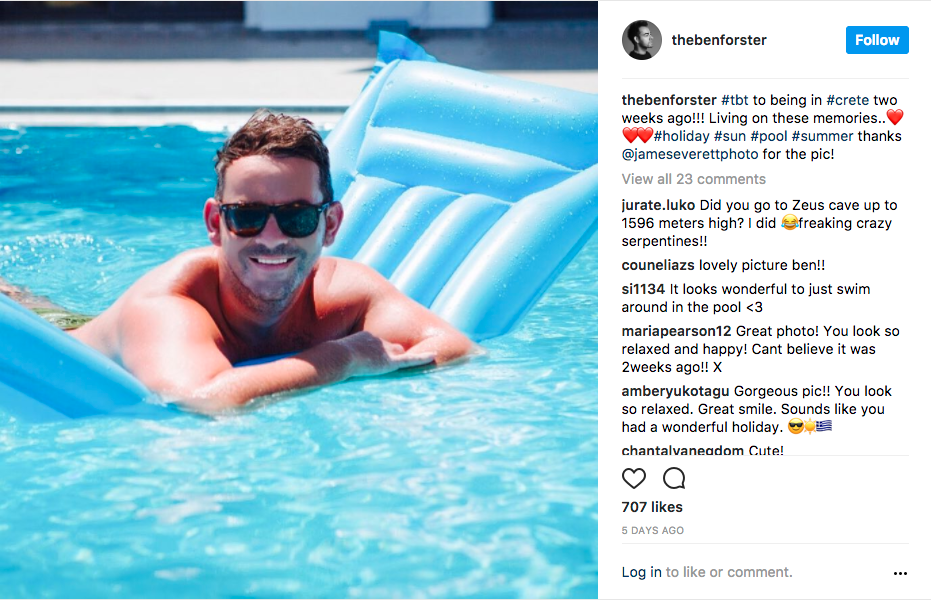 You can join in the conversation with be sending us your #SummerMusicalMoment and let us know what you're looking forward to most over the summer holiday season.
We've also put a list of questions to some of your #StageFaves to find out what they get up to when they're not belting out the high notes or dancing in the ensemble over the summer. So watch this space and we'll reveal all…