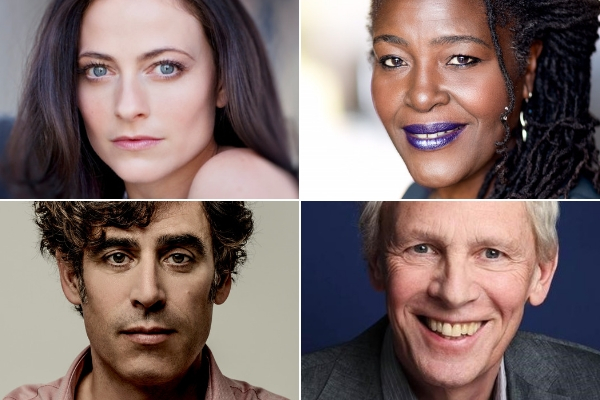 The gang of four join the previously announced Adrian Lester, Jason Manford, Meow Meow, Clive Rowe & Joe Stilgoe in the much-anticipated semi-staged concert of the classic musical, directed by Stephen Mear and running for three performances from 19-20 October 2018.
Lara Pulver, who recently won an Olivier Award for her performance in Gypsy, and is known for her roles in Sherlock and Spooks, will play Sarah Brown. Stephen Mangan, who was in the West End earlier this year in an anniversary production of Harold Pinter's The Birthday Party, joins the cast as the narrator. Sharon D Clarke, most recently on stage in acclaimed Caroline, or Change, will take the role of General Cartwright and Paul Nicholas will be Arvide Abernathy. They join the previously announced cast including Adrian Lester, Jason Manford, Meow Meow, Clive Rowe and Joe Stilgoe.

Directed and choreographed by Stephen Mear (Gypsy, Hello Dolly!, Mary Poppins) and featuring the Royal Philharmonic Concert Orchestra, this will be the first time the show has ever been presented in its entirety at the venue.
The production marks a return to musicals for Adrian Lester who stars as Sky Masterson, having previously won an Olivier Award for his performance in Sam Mendes' Company at the Donmar Warehouse and received critical acclaim for his role in the National Theatre's Sweeney Todd.
Jason Manford returns to the Albert Hall stage having hosted the Olivier Awards there in 2017 to take on the role of Nathan Detroit. Clive Rowe reprises his Olivier Award-winning role as Nicely Nicely Johnson, while cabaret sensation Meow Meow will play the role of Miss Adelaide. Acclaimed jazz singer and pianist Joe Stilgoe will play Benny Southstreet.
The cast also includes plenty more #StageFaves including Stephane Anelli, Dan Burton, Cory English, Julian Forsyth, Nia Jermin, Alexis Owen Hobbs, Sévan Stephan, Matthew Whennell-Clark, Davide Fienauri, Stevie Hutchinson, Ross McLaren, Ebony Molina, Jo Morris, Cris Penfold, Jak Skelly, Rachel Stanley and Alexandra Waite-Roberts.