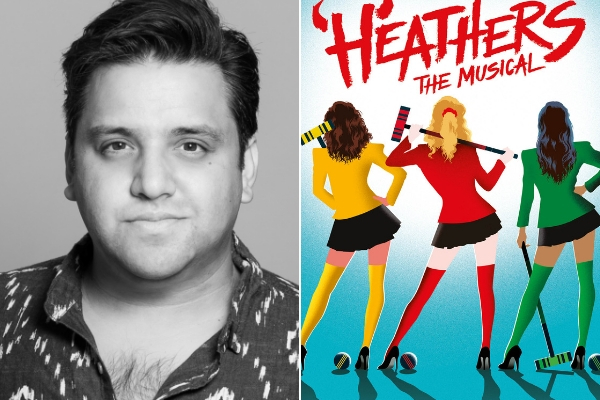 Nathan Amzi saves the day as smash-hit musical Heathers has its official opening at the Theatre Royal Haymarket this week. His name is now on the Westerberg High register and will remain there until the end of the semester on 24 November.
Known for his roles in Aladdin, In The Heights, Rock of Ages, The Voice UK, Nathan Amzi will be joining Carrie Hope Fletcher in the hit musical and playing the roles of Big Bud Dean and Coach Ripper. He says:
"I have loved jumping in becoming a part of this incredibly talented company! They are a true theatre family from the producers, creatives, cast, through every department. It's been the fastest rehearsal I've ever had to performance, which was only possible with this extraordinary team. When I saw the show as an audience member it blew me away, it's high-octane fun, full of heart backed by a stellar company. So to join their family is a joy."
Greetings and salutations. Welcome to Westerberg High, where popularity is so very a matter of life and death, and Veronica Sawyer is just another of the nobodies dreaming of a better day. But when she's unexpectedly taken under the wings of the three beautiful and impossibly cruel Heathers, her dreams finally start to come true. Until JD turns up, the mysterious teen rebel who teaches her that it might kill to be a nobody, but it's murder being a somebody…
Based on one of the greatest teen films of all time, the 1988 cult classic starred Winona Ryder and Christian Slater. The award-winning writing team, Laurence O'Keefe (Legally Blonde, Bat Boy) and Kevin Murphy's (Reefer Madness, Desperate Housewives) hit musical adaptation has enjoyed successful runs in Los Angeles and New York, and finally arrived in the UK for its European premiere on 9 June 2018, following a rapturous response to its 2017 workshop at The Other Palace.
Heathers – The Musical is directed by the acclaimed screen and stage director Andy Fickman, with choreography by Gary Lloyd, design by David Shields, lighting by Ben Cracknell, sound by Dan Samson and casting by Will Burton. The production is produced by Bill Kenwright and Paul Taylor Mills.