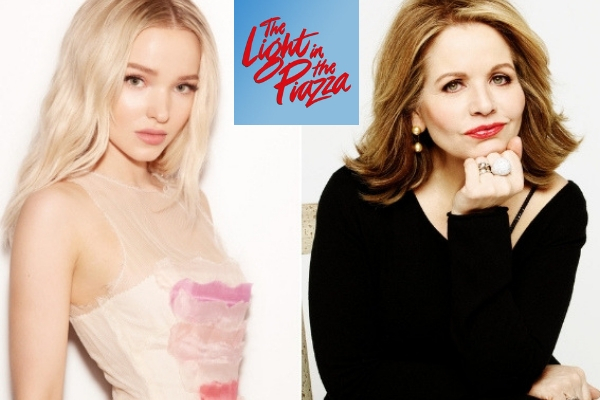 Craig Lucas and Adam Guettel's lyrical and romantic Broadway musical The Light in the Piazza will shine brightly at the Royal Festival Hall from 14 June 2019 for just 20 performances, directed by Daniel Evans and featuring the Orchestra of Opera North. It's going to be lush…
Running from 14 June to 5 July 2019 (press performance is 18 June 2019), with a book by Lucas and music and lyrics by Guettel, The Light in the Piazza is "a touching and heartwrenching love story set in Florence during the summer of 1953".
Four-time Grammy winner and Tony nominee Renée Fleming makes her long-awaited London music theatre debut as American Margaret Johnson. Dove Cameron makes her UK debut as Margaret's troubled daughter Clara; she is best known for her role in Disney's The Descendants trilogy, recently starred as Amber von Tussle in NBC's Hairspray Live! and is currently starring as Cher in the Off-Broadway production of Clueless: The Musical.
Renée Fleming said:
"I'm delighted to be a part of the London premiere of The Light in the Piazza. Adam Guettel's score is ravishing, reaching beyond the boundaries of how we think of musical theatre. For my London theatre debut, to play Margaret Johnson—a fascinating, deeply human character whose predicament I find incredibly moving—this was an opportunity I couldn't resist."
Daniel Evans, also artistic director of Chichester Festival Theatre, will be joined by set designer Rob Jones (RSC, Royal Opera House, Metropolitan Opera New York), costume designer Brigitte Reiffenstuel (Royal Opera House, The Metropolitan Opera New York), and lighting designer Mark Henderson (Gypsy).
Unapologetically lyrical and romantic, The Light in the Piazza transports us into the world of Margaret Johnson and her daughter Clara. As they take in the wonders of Florence, a fateful gust of wind whisks Clara's hat into the hands of local dreamer Fabrizio Naccarelli. It's love at first sight, but Clara isn't quite what she appears and soon they must all confront a secret that's been kept in the shadows for far too long.
Presenting The Light in The Piazza, the six-time Tony-winning musical coming to London from June 2019.

Presenting The Light in The Piazza, the six-time Tony-winning musical coming to London from June 2019.

Starring Grammy award winning opera legend @ReneeFleming & Emmy award winning actress @DoveCameron for 20 performances only. Sign up for ticket info: https://t.co/CIfoXmoD30 pic.twitter.com/1XGjhPxH38

— The Light In The Piazza (@LITPMusical) November 9, 2018