THE TOXIC AVENGER was monstrous fun at Southwark Playhouse last spring so we're looking forward to it sliming its way into the West End, for a strictly limited season at the Arts Theatre direct from the Edinburgh Fringe, where we're confident it'll become a festival fave...
Following a sold-out UK premiere at Southwark Playhouse last year, when it received six Off West End Award nominations including Best Musical, acclaimed rock musical THE TOXIC AVENGER is to transfer to the Arts Theatre for a strictly limited ten-week season from Thursday 28 September to 3 December 2017, with a press night on 2 October.
'The Toxic Avenger' is the brainchild of the Tony Award-winning creative team behind the smash hit West End musical 'Memphis', Joe DiPietro and David Bryan, an original founding member and keyboardist/vocalist for rock giants, Bon Jovi.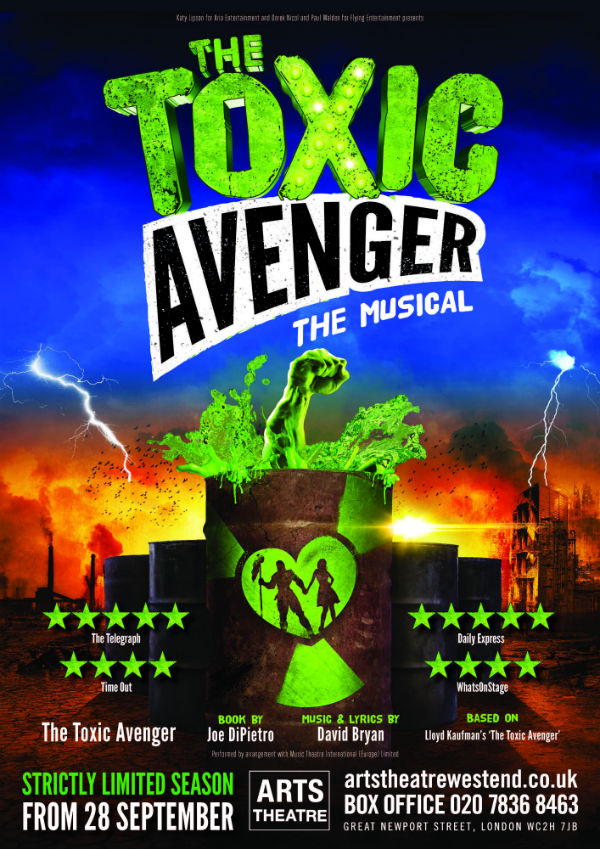 Prior to the London season, the production will have a month-long run at the Edinburgh Fringe Festival – full details to be announced soon.
Based on Lloyd Kaufman's cult 1984 comedy schlock-horror Troma film, "The Toxic Avenger", THE TOXIC AVENGER – The Musical tells the story of the citizens of Tromaville, who are crying out for a hero… Enter nerdy Melvin Ferd the Third, an aspiring earth scientist, determined to clean up the state's major toxic waste problem. When a corrupt Mayor and her government goons get wind of his plans, they vow to stop this heroic feat. Melvin is attacked and tossed into a vat of toxic waste… transforming him instantly into The Toxic Avenger, New Jersey's first superhero!
Toxie, played by Mark Anderson at Southwark, is a seven-foot mutant freak with superhuman strength and a supersized heart to match. He's out to save heavily polluted New Jersey, end global warming, win the heart of the prettiest (blindest) librarian in town and get home in time for dinner!
Prepare to laugh, scream and sing to songs including 'Who Will Save New Jersey?" "Get the Geek", "Thank God She's Blind" "Hot Toxic Love" and "Choose Me, Oprah!" as 'Toxie' rocks the house and saves the day!
THE TOXIC AVENGER is directed by Benji Sperring, with musical direction by Alex Beetschen, lighting by Nic Farman and choreography by Lucie Pankhurst.
Casting for the new Edinburgh and London dates is still to be announced.
Re: @ToxicAvengerUK, I wrote during @swkplay run about other potential schlock horror musicals. #Gremlins, anyone? https://t.co/IZYVzjLl3a pic.twitter.com/zbcRVWmtcN

— Terri Paddock (@TerriPaddock) April 20, 2017