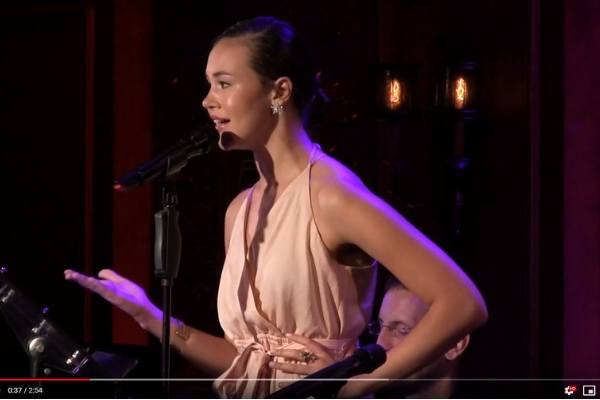 Mob Wife, A Mafia Comedy, Michael Mott and Corey Skaggs' criminally funny musical, receives a handful of developmental performances at Cockpit Theatre later this month. Get a flavour for the wiseguy-filled tale with these clips of a trio of songs being performed at New York's 54 Below. Then, bada-bing bada-boom bada-book your tickets!
Created by composer/lyricist Michael Mott and writer Corey Skaggs, and staged by Starbuck Theatre Company from 24 to 26 January 2019, Mob Wife is the tale of Debra Delbono. It's the 1970s and she's married to a mobster, but she longs for her old life when he cared more about her than being the Captain of the Staten Island Mafia. Mishaps, miscommunication and near-fatal misunderstandings help them rekindle their love... now they have to stay alive long enough to enjoy it!
Mob Wife follows a great tradition of musical theatre shows featuring mobsters, gangsters and hoodlums, among them Guys And Dolls, Kiss Me, Kate, Jersey Boys and Bugsy Malone.
Ashleigh Aston, whose previous credits include RENT at The Old Rep, leads the cast as Debra Delbono, while Timpson: The Musical's Matt Bond plays Tony. Alex Wadham, Dru Stephenson, James Edge, Matthew Churcher, Sarah Pavlovs, Duncan Burt, Daniel Nicholas and Paul Large complete the cast.
Harry Blumenau (Imagine This, Union Theatre) directs Mob Wife, with musical direction by Dan Tomkinson and lighting and sound by James Pitts.
Composer Michael Mott began his career as a musical theatre performer, before changing his focus to writing in 2012. He released his debut album, Where The Sky Ends, in the summer of 2014, swiftly following it in the autumn with an album of dance remixes. His second studio album, Abandoned Heart, was released in 2017. He also wrote the song 'Christmas, Will You Stay?' for Broadway star Laura Osnes and was named one of Playbill's Contemporary Musical Theatre Songwriters You Should Know. In addition to Mob Wife, his other musicals include The Light Book and Lucifer, which was also written with Skaggs.
In addition to writing, Corey Skaggs is a successful stage performer boasting credits on both sides of the Atlantic. In London, he has appeared in the National Theatre productions of Love's Labour's Lost and Anything Goes, Sunset Boulevard and Mary Poppins.
Starbuck Theatre Company was created by Sarah Pavlov to champion new musical theatre. Its previous shows include A Night at the Musicals, Next Thing You Know, The Guide to Being Single and I Love You Because.
Get a taste of Mob Wife, A Mafia Comedy with these songs performed at 54 Below in New York: