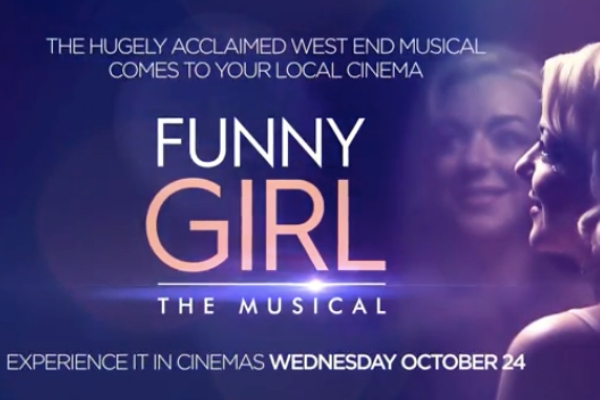 The weather will just be fine on your parade if you catch this sneak peek of the cinema trailer for Funny Girl starring Sheridan Smith. The Menier Chocolate Factory production, which had a West End run followed by a tour, was filmed during the final week of its run at the Manchester Palace Theatre and is released on 24 October 2018. Not long now…
Darius Campbell played Nick Arnstein to Sheridan Smith's Fanny Brice, and they were joined by Nigel Barber (Florenz Ziegfeld), Zoë Ann Bown (Mrs. Meeker), Martin Callaghan (Mr. Keeney), Jennifer Harding (Emma), Rachel Izen (Mrs Brice), Joshua Lay (Eddie) and Myra Sands (Mrs. Strakosh); with Rhianne Alleyne, Kit Benjamin, Lloyd Davies, Flora Dawson, Joseph Dockree, Abigayle Honeywill, Brontë Lavine, David Mcintosh, Peter Nash, Gillian Parkhouse, Tom Partridge, Nova Skipp, Alexandra Waite-Roberts, Sam Wingfield and Alexandra Wright.
Sheridan Smith said:
"Fanny Brice was an extraordinary woman who broke the mould for female entertainment, not only that, she was a brilliant comic! Her lack of vanity and her goofiness made her unique and very special, and the role was an utter joy to play. I'm beyond excited to be able to share our production of Funny Girl with audiences across the UK." Sheridan Smith
With music by Jule Styne, lyrics by Bob Merrill and book by Isobel Lennart, the Broadway smash which skyrocketed Barbra Streisand to stardom, was revived with Smith playing Fanny Brice, who rose from the Lower East Side of New York to become one of Broadway's biggest stars under producer Florenz Ziegfield. While she was cheered onstage as a great comedienne, offstage she faced a doomed relationship with the man she loved. Michael Mayer's production was filmed by Digital Theatre and will be released in cinemas by Trafalgar Releasing.