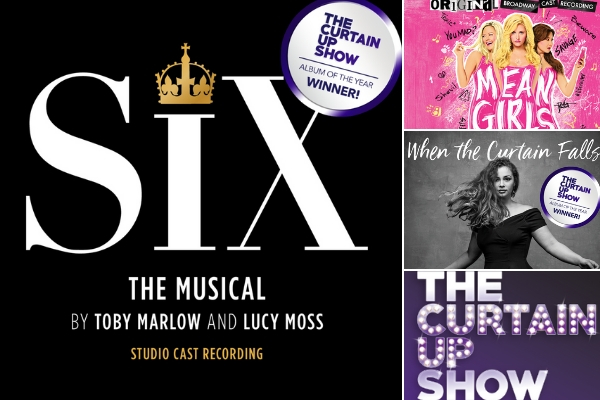 After more than 21,000 votes being cast, the winners have been announced for The Curtain Up Show Album of the Year 2018: Six The Musical wins for Best UK Cast Recording, Mean Girls on Broadway is the Best American Cast Recording and Carrie Hope Fletcher's solo effort When The Curtain Falls is top in the Best Solo Album category. Was your favourite victorious?
The winners were revealed live on The Curtain Up Show on Resonance FM by Tim McArthur and Nathan Matthews, in the first episode of the weekly chat show's 20th series.
McArthur and Matthews said: "We're delighted and overwhelmed by the phenomenal response with the voting. It was hard enough whittling it down to just six nominees for each category, so we're glad that the final decision was left to our listeners. That's the hard job!
"We both love Six [which has just extended booking to 5 January 5 2020] and are delighted that it's bagged Best UK Cast Recording! Toby Marlow and Lucy Moss have written one of the most exciting new British musicals in a very long time, so what better way to celebrate the show's return to the West End than by awarding it Album of the Year?!
"Mean Girls is Broadway's biggest hit of the season, packed full of catchy songs with witty lyrics. Jeff Richmond and Nell Benjamin have created a wonderful score to complement Tina Fey's brilliant book. We loved the show in New York, and can't wait to see it in London.
"Carrie Hope Fletcher is undeniably one of the most talented vocalists of her generation, so it's no surprise that she's carved out an enviable stage career in recent years with critically acclaimed roles in productions such as The Addams Family, Les Misérables and Heathers The Musical. Her debut solo album When The Curtain Falls is a perfect mix of songs with gorgeous arrangements, sung to perfection."