In the first of our two-part interview, Bare: A Pop Opera star Darragh Cowley discusses playing 'the golden boy' and why 2019 is the right time to revive Damon Intrabartolo and Jon Hartmere's coming-of-age musical about Catholic school.
Centred around a group of students who are staging Romeo and Juliet, Bare explores identity, acceptance, faith and body issues. Altar boys have secret relationships, Golden Boys worry about what dad will say, boys and girls compete between themselves and some students start to question their faith but the show must go on! Bare delves into the minds of the students of St Cecilia's as they have their own coming-of-age epiphanies.
Bare: A Pop Opera has music by the late Damon Intrabartolo and lyrics by Jon Hartmere. With a unique sung-through pop score, heart-pounding lyrics and a cast of bright young characters, Bare is a provocative, fresh and utterly honest look at the dangers of baring your soul and the consequences of continuing to hide. Although this is a story of love and friendship, it is also about the heartbreak and turmoil that so many of us, of whatever sexuality, face throughout our lives.
Bare: A Pop Opera was first staged in Los Angeles in 2000, had its Off-Broadway debut in 2004 and has toured to over 100 countries. It had its European premiere at London's Union Theatre in 2012 and subsequently played at Greenwich Theatre.
---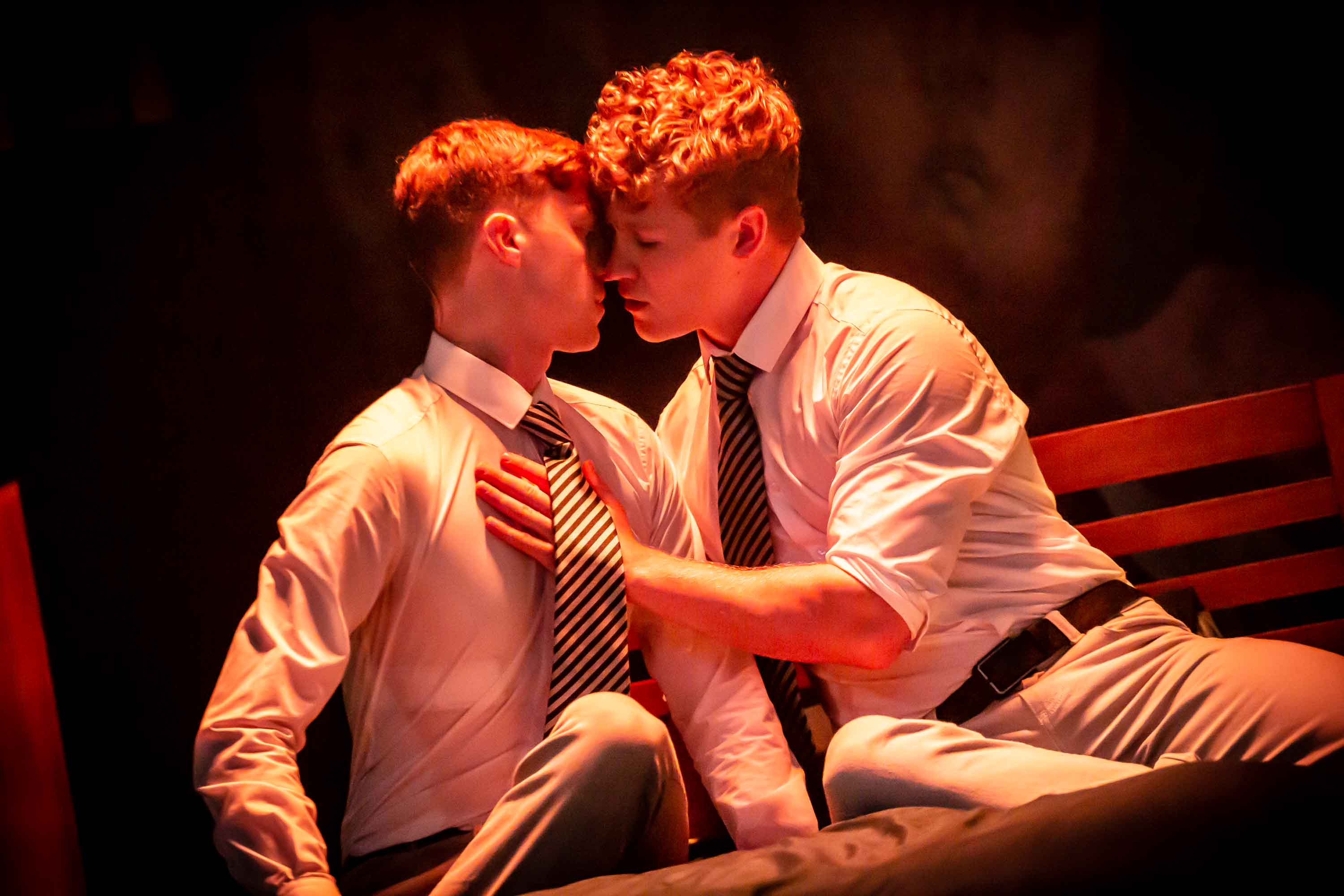 Darragh Cowley with Daniel Mack-Shand in Bare. © Tom Grace
Talking to... Darragh Cowley
A graduate of the Guildford School of Acting, Darragh's other credits to date include Standing at the Sky's Edge, Snow White, Spring Awakening and Matthew Bourne's Lord of the Flies.
Why did you want to be in Bare?
There are a few answers to this question. One being that I'm an actor, and in order to pay my rent and feed myself I need to work – all actors out there know the work is not always in abundance. Another reason is that I related to my character, Jason, not in all ways, but in some. I would like to think we share some qualities that help me portray him with honesty. The biggest reason, however, is that I love stories with grit and heart. The narrative and themes in Bare don't paint a rainbow as such, but I feel as though they give an accurate account of what a lot of people go through, with an important mission statement.
How would you describe Bare to someone who knew nothing about it?
Fundamentally, Bare is about acceptance and understanding. It tells the story of a group of young adults at a Catholic boarding school, as they struggle to come to grips and deal with issues most of us face as teenagers. These include sexuality, self-harm, suicidal thoughts, pressure from their 'elders and betters', in the form of their parents and school faculty, and experimenting with recreational drug use. For me, and particularly my character, the poignant storyline is one of sexual discovery and self-acceptance.
Why do you think now is an important time to revive Bare?
I think it's an important show to revive now for a number of reasons. Jason can't, or tries not to, accept the fact that he's gay because he believes his father would disown him. He seeks guidance from his priest and is told to ignore it because 'the [Bible] teaching is clear.' This sort of miseducation from those surrounding Jason, leading him to hide himself from himself and the world, is woefully still thriving today.
In 2019, we've seen women attacked on public transport for being gay; I'm sure everyone is aware that the LGBTQ+ community in the UK has seen a rise of homophobic attacks in this year. The man who is, unfortunately, likely to be our Prime Minister attacked the teaching about homosexuality in schools and has referred to gay men as, 'tank-topped bum boys.'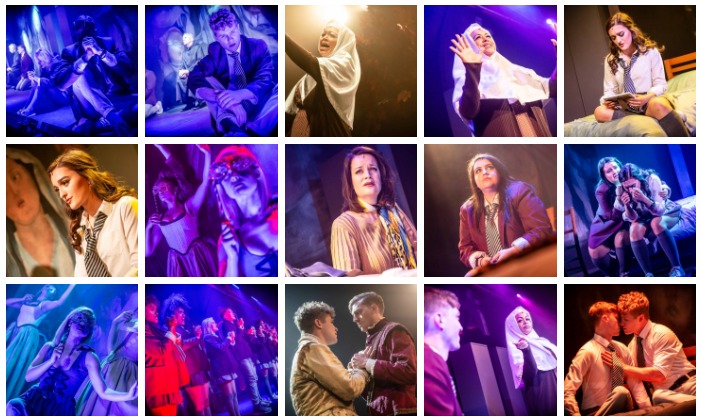 View the full gallery of Bare production shots on the show's StageFaves page


On a global scale, in Chechnya, gay and bisexual men are being 'outed' by their communities and sent to death camps. In Brunei, the lawful punishment for being gay is being stoned to death. It's a horrendous truth but, all over the world, there are people who aren't accepted by their supposed loved ones, by their governments, by what they feel to be their entire world because of their sexuality.
To say that, in 2019, gay people are accepted across the board would be a gross overstatement. I really wish it was the case, but it isn't. Bare is an anthem that addresses and scrutinises the ignorance that lies at the very core of these horrors, big and small. I don't think the story necessarily celebrates all things queer and wonderful like other musicals do, but the underlying message is a sermon of love and respect.
Tell us about your character.
Jason is your typical 'golden boy.' He excels in sports, he's top of the class, he's a classic case of the charming, floppy-haired heartthrob. You know those people at school who were irritatingly good at everything and, to top it all off, had the charisma to melt your face off? (Goodness knows I wish I shared those qualities). Underneath this, however, Jason is misguided by the teachings of the church and both the pressure he puts on himself to impress, and the pressure his parents put on him to be impressive. I feel as though he has a good heart but often makes the wrong decisions in a vain attempt to dig himself out of a hole. A good moral compass sent haywire by a magnet if you will.
What are you most looking forward to about spending summer at The Vaults?
Geographically, we're a stone's throw from The Understudy, which just so happens to be one of my favourite pubs in London. Vaults-specific, I'm a sucker for fringe art spaces, I'm really hoping to get a look at some of the other things going on at The Vaults over Summer.