In the second of our two-part interview, Bare: A Pop Opera star Darragh Cowley shares his Shakespeare ambitions and dishes the dirt on co-star and drama school peer Lizzie Emery as well as director Julie Atherton.

Centred around a group of students who are staging Romeo and Juliet, Bare explores identity, acceptance, faith and body issues. Altar boys have secret relationships, Golden Boys worry about what dad will say, boys and girls compete between themselves and some students start to question their faith but the show must go on! Bare delves into the minds of the students of St Cecilia's as they have their own coming-of-age epiphanies.
Bare: A Pop Opera has music by the late Damon Intrabartolo and lyrics by Jon Hartmere. With a unique sung-through pop score, heart-pounding lyrics and a cast of bright young characters, Bare is a provocative, fresh and utterly honest look at the dangers of baring your soul and the consequences of continuing to hide. Although this is a story of love and friendship, it is also about the heartbreak and turmoil that so many of us, of whatever sexuality, face throughout our lives.
Bare: A Pop Opera was first staged in Los Angeles in 2000, had its Off-Broadway debut in 2004 and has toured to over 100 countries. It had its European premiere at London's Union Theatre in 2012 and subsequently played at Greenwich Theatre.
---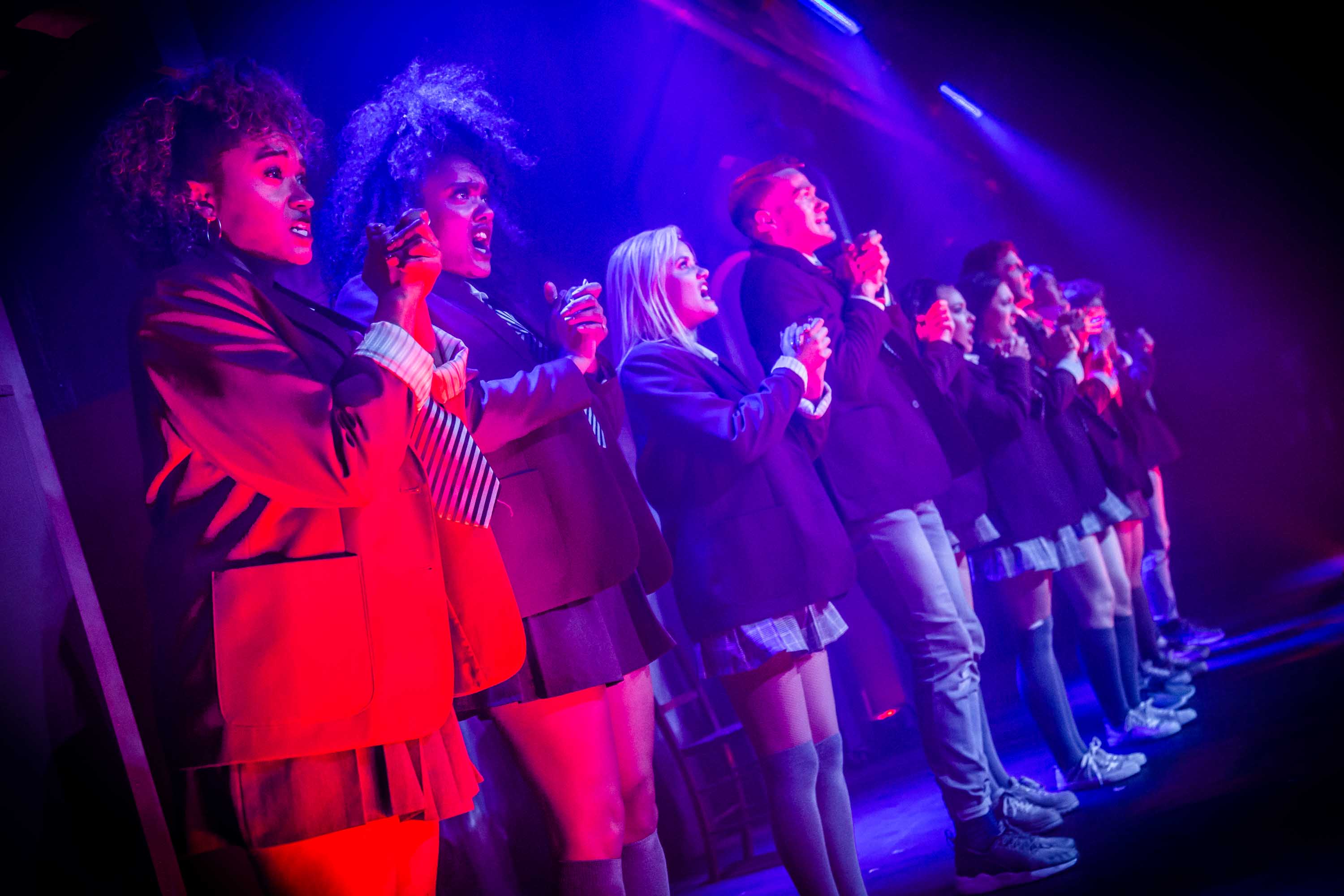 The cast of Bare at The Vaults. © Tom Grace


Talking to... Darragh Cowley
A graduate of the Guildford School of Acting, Darragh's other credits to date include Standing at the Sky's Edge, Snow White, Spring Awakening and Matthew Bourne's Lord of the Flies.
Bare centres around a production of Romeo & Juliet. Would you like to do Shakespeare?
I don't for a second think I should only like to work in musicals. I would never think to myself, 'I only want to watch musicals,' or, 'I only want to watch plays.' In the same respect, I would never like to think that I would restrict my working capabilities to one or the other. I did a lot of Shakespeare in Am-Dram back in Manchester before drama school. My drama teacher at school used to drive a few of us down to the Royal Shakespeare Company in a dishevelled old minibus and since then the RSC has really been the top banana for me. Prince Hal and Orlando are the two I'd love to do the most, Benedick when I'm a little older perhaps, and should the opportunity to play Caliban ever come around I'd grab it with both hands.
There are of course roles in musicals I would like to do in West End theatres, but to be able to play that magnificent theatre in Stratford with the willow trees sighing over the canal, even for a week, would be heaven on earth for me.
Beyond Shakespeare, my all-time favourite play is Alan Bennett's The History Boys, closely followed by Gareth Farr's Britannia Waves the Rules. If I had three wishes, I would spend two on the opportunity to play Dakin and Carl, and the other I would use to be cast in the Summer Season at Keswick's Theatre by the Lake.
What's it like working with Julie Atherton as a director?
Julie Atherton is one of the most brilliant individuals I've ever had the pleasure of working with. I'm not sure I've ever known a person with her capabilities in keeping up spirit and morale. There were times when we definitely reached obstacles for one reason or another in the rehearsals process, and Julie always had her head above the water. She was consistently working to get the best out of her company and offered her whole self to the process. When we worked ourselves to the bone, Julie worked herself to the bone with us. In short, Julie is not a director sat on the other side of a table, but a true, honest company member.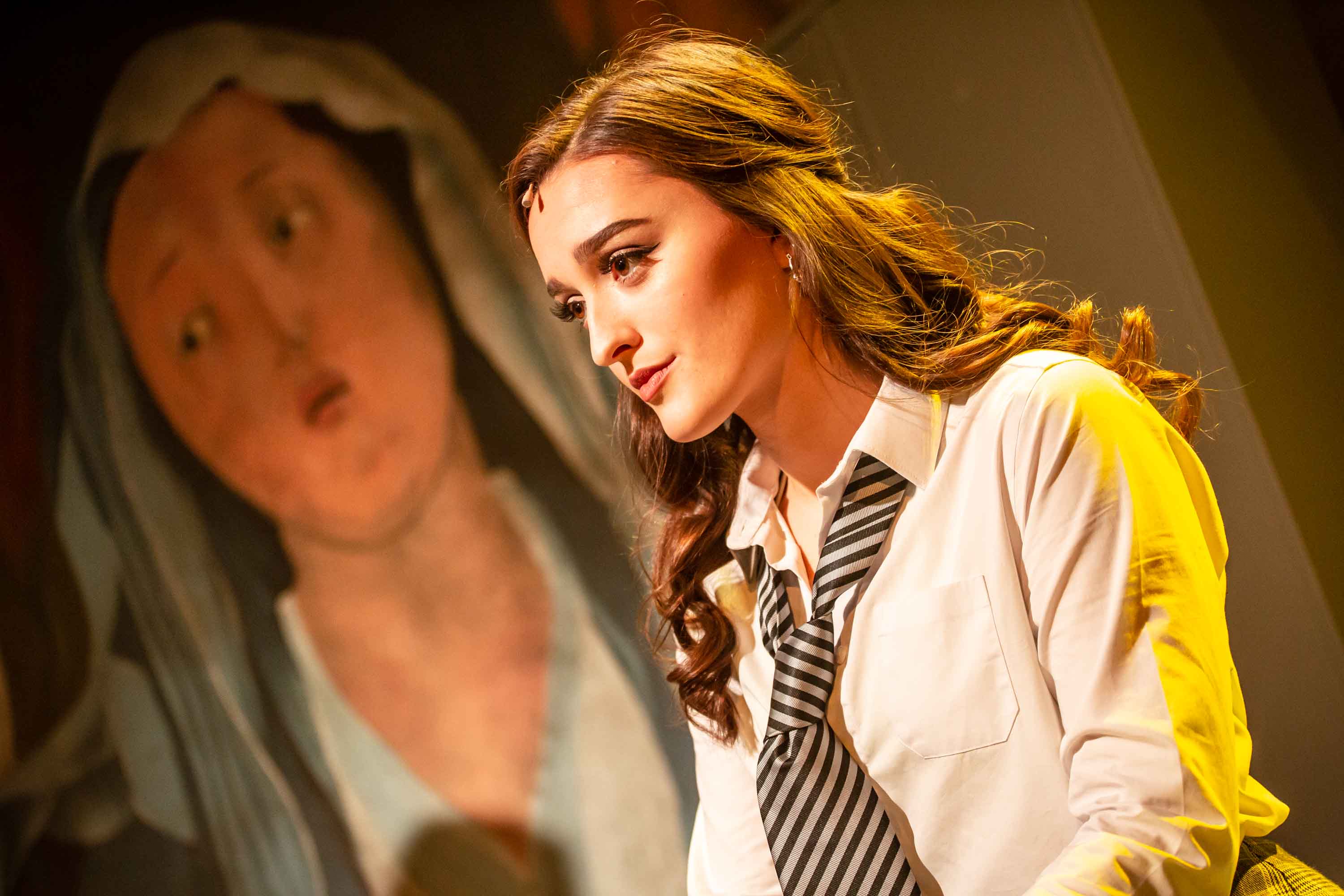 Lizzie Emery in Bare at The Vaults. © Tom Grace
What's your favourite number in the show?
We had this conversation in the dressing room the other day, and the others were quite surprised by my answer. My favourite is "Portrait of a Girl". Besides the fact that Lizzie Emery and Tom Scanlon have voices that sound like silk both individually and together, it tells a story of feeling as though you have to play up to a stereotype that has been put upon you by your peers, or that you may have created yourself.
I definitely felt as a teenager that everyone had their cliques in school, and that every 'type' of person was expected to behave in a certain way because of this. This song addresses the fact that teenagers often feel trapped in the boundaries created by themselves and others, and I think it's important to tell our (largely teenaged) audience that they don't have to be anyone they don't want to be.
Any anecdotes from rehearsals?
Lizzie and I went to drama school together. We were in the same year at Guildford and in the same class for a good long while. We're good friends. Now her birthday is on 26 May, and we started rehearsals on the 27th. I sent her a text when we found out we'd be working together and she said I'd better buy her a drink because her birthday was the day before we started. I sent her a reply saying absolutely, the only better reason I can think for buying her a drink was if her birthday was on the actual day we started.
On that first day of rehearsals, Jason, our producer, came out with a birthday cake and candles and thus ensued an awkward rendition of first-day happy birthday. It was only when Jason sang, 'Happy Birthday Lizzie and Darragh,' that Lizzie realised, after nearly four years of friendship, that she had forgotten my birthday, the day after hers, 27 May, that first day of rehearsal. She recalled our text conversation and went very red, realising what I had been referring to. She never bought me a Guinness.
Happy love is love.
Happy expression.
Happy progress so far.
Happy progress to be made.
Happy honesty.
Happy acceptance.
Happy bravery.
Happy solidarity.
Happy the right to be who you are.

🏳️‍🌈Happy Pride🏳️‍🌈

— Darragh Cian Cowley (@DarraghCian) July 6, 2019
Bare's run has coincided with the 50th anniversary of the Stonewall riots in New York (28 June-3 July 1969). How meaningful is that to you?
I wasn't alive for the Stonewall riots, but I understand that gay people were alienated and oppressed the government in the 1950s and 1960s leading up to the riots. It's deeply upsetting that the anti-gay legal system faced in America then still exists in parts of the world today. If you caught Years and Years on the BBC recently (chuffing excellent, might I add), what the character of Viktor experienced in the Ukraine is a reality.
There are regular occurrences of violence towards members of the LGBTQ+ community in the UK too. All you have to do is open Twitter to see a live-action account of everyday homophobia – both people giving it out online and accounts of receiving it on the streets of London and elsewhere. It's a disgrace that in such a 'civilised' nation, people live in fear of potential repercussions should they want to be who they are in public.
This is not to say there hasn't been progress for LGBTQ+ rights since the Stonewall riots, distance has been covered, particularly as far as the law is concerned. However, homophobia is alive, and so there is still a great distance to go. It's very meaningful to have Bare play a part in this conversation.
Anything else you'd like to add?
Our show is for everyone, but for me, our show is also about the individuals whose stories we are telling, and anyone who has ever felt like they had nowhere to turn and no one to go to. I just hope we tell our version of their story in a way they would want.