Charles Aitken plays the titular World War One hero and Canadian ace pilot in Proud Haddock's production of musical two-hander Billy Bishop Goes to War at London's Jermyn Street Theatre. Having been raised in the US, he was shocked to discover how little he knew about the Great War before: he's making up for it now. Check out our must-read interview with him below...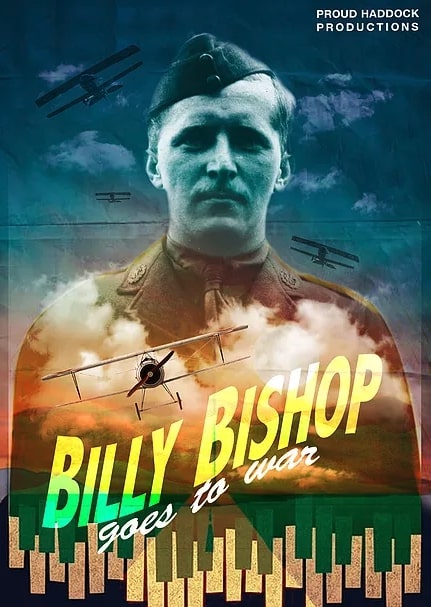 Coinciding with the centenary of the end of World War I, Proud Haddock presents Billy Bishop Goes to War, the show's first London production in over 25 years, runs from 31 October to 24 November 2018, with a press night on 2 November.
This striking musical drama is based on the true story of young Billy Bishop, a failing military college student who became Canada's indomitable flying ace, the most successful pilot of his generation.
Helmed by Proud Haddock artistic director Jimmy Walters, Billy Bishop Goes to War stars Charles Aitken as Younger Billy with Oliver Beamish as Older Billy. Beamish will also provide the piano and musical accompaniment, and between the two, they will play a further 17 parts as they recount this extraordinary tale.
In 1914, Billy Bishop, aged only 20, signed up to fight in the Great War. A failing and bullied student, he overcame intense prejudice and astonishing danger to receive his wings and become the top fighter pilot. Through a combination of bravery and sheer luck, Billy was able to find his place and prove his worth. He became a true Canadian hero.
Brought to life with songs of the period and written by John MacLachlan Gray in collaboration with Eric Peterson, Billy Bishop Goes to War vividly transports the audience across the landscape of World War I, from the thick mud of No Man's Land to the drawing rooms of the British aristocracy.
---
In conversation with... Charles Aitken
Had you heard of Billy Bishop before this? If not, which World War One heroes had made the biggest impact on you?
I hadn't heard of Billy Bishop. The heroes prior to this that made the biggest impact on me were the poets - Wilfred Owen, Siegfried Sassoon, Robert Graves - and the German artist Otto Dix. The former rendered the war in words that awoke my imagination and touched my heart. The latter captured the horrors of No Man's Land and its effect on the human psyche in extraordinarily visceral illustrations and portraits, which I have been lucky enough to see for myself.
I had the honour of engaging with the poets at drama school, culminating in a final year production of RC Sherriff's masterpiece play, Journey's End, in which I had the privilege of portraying Captain Stanhope, a fictional character who nevertheless is a hero to me. His namesake and rank is etched on the monument in Thiepval, France, among the eighty thousand other soldiers whose bodies were never recovered after the Battle of the Somme.
Seeing that name on the monument one misty morning impressed upon me the responsibility we have, actors and non-actors alike, to cherish their heroism and to never forget the great sacrifice they made in the most appalling and dehumanising conditions. The illustrations of Otto Dix have helped me understand the nature of extreme psychological trauma and its resulting PTSD and informed my acting work over the years in everything from Foyle's War to King Lear for the Royal Shakespeare Company.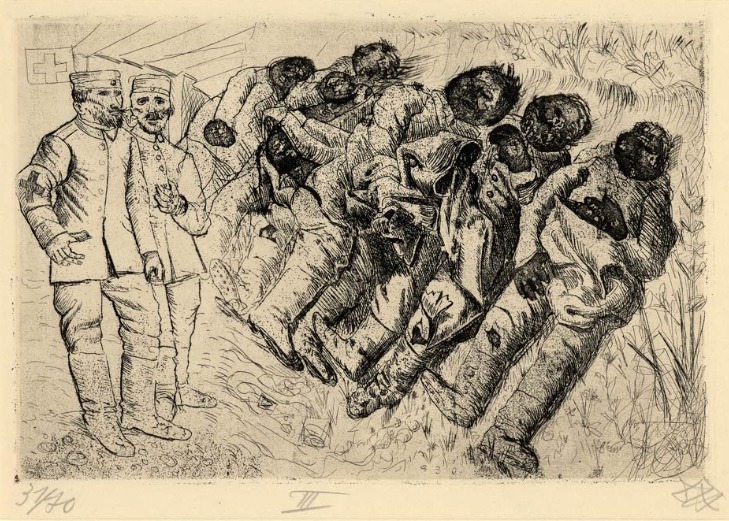 Gas victims, 1916. By Otto Dix
Why did you want to accept your part in this production?
I am deeply passionate about the First World War. I'm half American and spent a large part of my childhood there. When I returned to England to attend RADA, I was shocked at how little I really knew about the First World War, despite having a degree in history. I think this is largely because America doesn't have the same emotional engagement with World War One compared with the rest of the world.
The First World War has never had its Saving Private Ryan; a film to capture the visceral experience and human condition during the war. Hollywood seems disinclined to finance a large-scale film that truly conveys the horrors of the Great War (Steven Spielberg's War Horse came closest, but its depictions of trench life and No Man's Land were frustratingly fleeting). This lack of finance, no doubt, has much to do with the fact that the vast majority of the First World War was a European affair and it lacks the archival media that so vividly brings the experience of WWII to life. Silent, Benny Hill-esque, black and white footage of men with silly moustaches and funny hats is largely all we have.
The Great War feels like something distant, dusty, and confined to the margins of a history book. Therefore, it is up to the words of the war poets, of novelists like Pat Barker, and of playwrights to recreate the experiences of those who fought in the First World War. Their profoundly moving stories aren't just something to be studied but should be experienced and felt.
For the two hours I'm onstage, playing Billy Bishop, I have the chance to engage in an emotional, non-intellectual way with one of these stories. I hope to gain a glimmer of insight into the man and what he endured and that I can share that glimmer with the audience. I want them to leave the theatre having, if only for a moment, had the First World War reclaimed from the pages of history and brought vividly to life.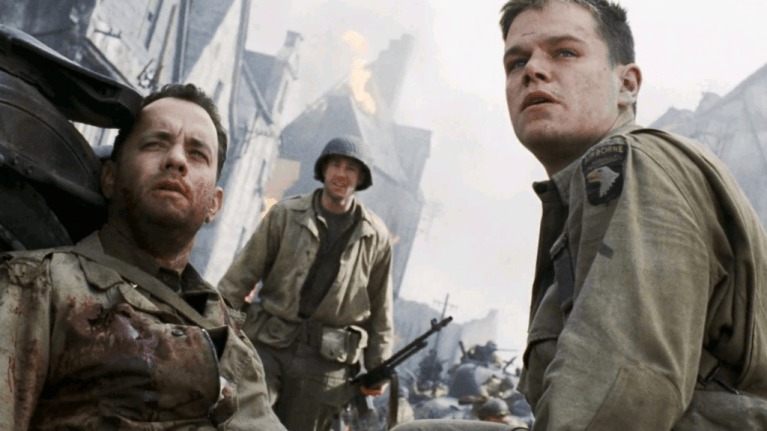 Tom Hanks & Matt Damon in 1998's Saving Private Ryan
You and Oliver Beamish play younger/older versions of the same man. How does that feel?
It's fascinating. At any given moment during our production, there are two perspectives presented: mine as Young Billy and that of my castmate, Oliver Beamish, as Older Billy. His is the perspective of a man looking back over the key events of his life and trying to make sense of them. Mine is that of a younger man recounting those same events, reliving them in that moment. In the case of Bishop's famed attack on a German aerodrome, we converge in a shared experience.
It's fascinating and humbling to share a character in this way. It means our depiction of Bishop is a conversation not a monologue. A pas-de-deux of inspiration and creation. Oliver is a wonderful partner, emotionally and intellectually generous and a fantastic musician to boot. Hopefully, the result of this pairing will be a richer portrait of a complicated and fascinating man.
Do you have a favourite song in the show?
All the songs are original and range from moving Randy Newman-esque songs to slinky and sexy cabaret numbers to rousing pieces that could be sung atop a Parisian barricade. My favourite is a snippet of a nostalgia-tinged tune towards the end of the show which, to my immense frustration, is sung exclusively by Oliver.
Why should people see Billy Bishop Goes to War?
It's a genuinely funny, moving, and intriguing account of a fascinating but mostly forgotten figure from our recent past. The play sheds light on a little-explored aspect of the First World War, the birth of combat in the air, and brings it vividly to life from the perspective of an unexpected and mostly unheard WWI voice: the Canadian. Billy Bishop Goes to War does for Canada what the film Gallipoli did for the Australian experience of the First World War.
Anything you'd like to add?
My birthday features in the play and was a significant date in Billy Bishop's life. I took it as a sign.
---
Enter our competition by 2 November!