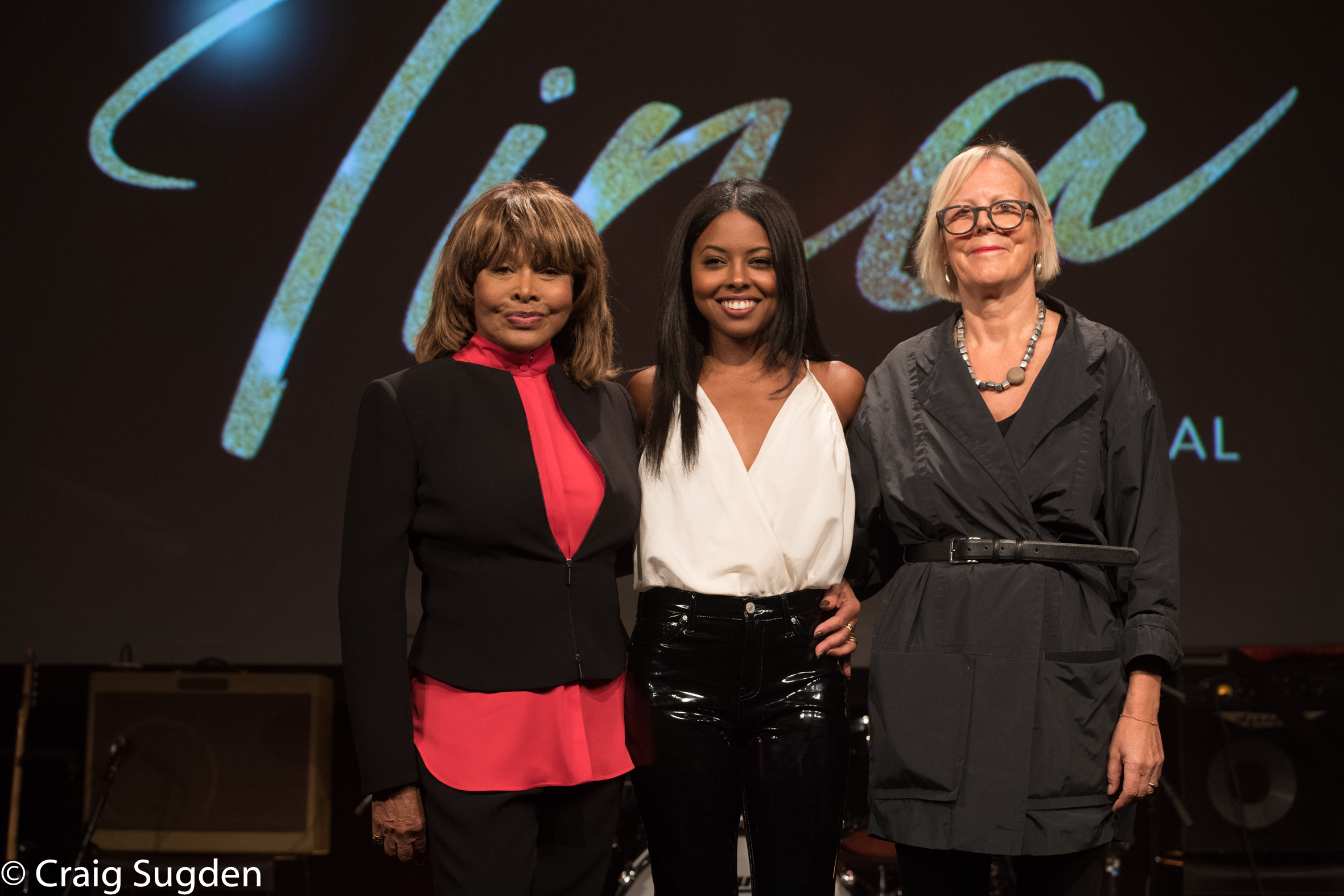 It's official! Broadway's Adrienne Warren, who took part in the workshops of TINA The Musical, will make her West End debut portraying her idol, rock legend Tina Turner, in the new bio-musical, which premieres next spring, directed by Mamma Mia!'s Phyllida Lloyd. Read what the two American divas had to say about each other at today's media launch event...
Tina Turner announced today (17 October 2017) that fellow American Adrienne Warren will portray her in the world premiere of the new musical TINA, which starts performances at the West End's Aldwych Theatre on 21 March 2018, with press night on 17 April. The premiere production is currently booking to 16 June 2018.
TINA is written by The Mountaintop's Katori Hall with Frank Ketelaar and Kees Prins and directed by Phyllida Lloyd (pictured above with Turner and Warren), with choreography by Anthony van Laast, set and costume designs are by Mark Thompson, musical supervision by Nicholas Skilbeck, lighting by Bruno Poet sound by Nevin Steinberg and orchestrations by Ethan Popp.
Adrienne Warren said: "Growing up watching Tina, I knew how to shake my hips before I could tie my shoes! I am so grateful to our creative team and producers for entrusting me with this responsibility. I say responsibility, because I am a Tina Turner fan first. I am elated, honoured and humbled. Meeting and working with Tina is and will always be one of the great moments of my life. Can't wait to see you in London!"
Tina Turner said:
"It has been my joy to introduce Adrienne today. From the moment I met her at our last workshop I saw her exceptional talent. Playing this role will require immense physical and emotional commitment, and bravery too. We are thrilled to have found Adrienne, and I very much look forward to spending more time together and developing a special friendship I know will grow even stronger as we prepare the production for the Aldwych Theatre. We can't wait to welcome her to the show."
From humble beginnings in Nutbush, Tennessee, to her transformation into the global Queen of Rock 'n' Roll, Tina Turner didn't just break the rules, she rewrote them. This new stage musical, presented in association with Tina Turner herself, reveals the untold story of a woman who dared to defy the bounds of her age, gender and race.
TINA is produced by Stage Entertainment, Joop van den Ende and Tali Pelman, in association with Tina Turner. Further casting for TINA will be announced in due course.
Adrienne Warren will make her West End stage debut as Tina. Her most recent theatre credit was in Shuffle Along at the Music Box Theatre on Broadway, for which she received a Tony nomination. Her other US theatre credits include Bring it On the Musical at St. James Theatre, Dreamgirls at the Apollo Theater, which was followed by a National Tour, and The Wiz at Encores City Center. She has toured and recorded with the multi-platinum selling Trans Siberian Orchestra in which she received her first Platinum and Gold records. Her television credits include the Amazon Pilot Point of Honor, Orange is the New Black, Blue Bloods, Royal Pains, People in New Jersey, Irreversible, and Black Box. In March this year, she made her Carnegie Hall debut with the New York Pops.