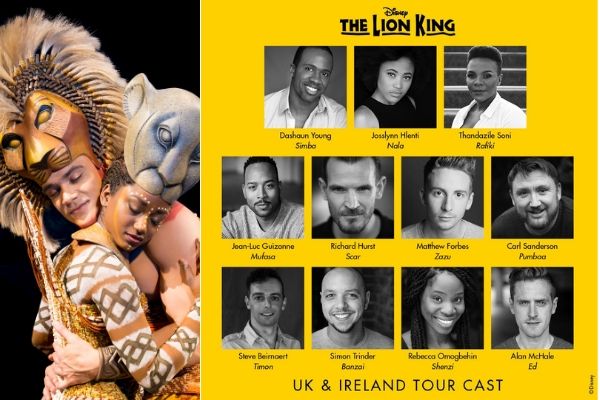 We know which performers have been cast in the new UK and Ireland tour of Disney's landmark musical The Lion King which will roar into Bristol in September 2019 before moving on to Edinburgh in December. Why not read on and find out more?
THE LION KING will welcome new cast members from Belgium, Brazil, Democratic Republic of the Congo, Dominican Republic, Ireland, France, Hong Kong, Jamaica, Nigeria, Saint Martin, Singapore, South Africa, Spain, Taiwan, Trinidad and Tobago, United Kingdom and United States of America. The roles of Simba, Nala and Rafiki will be played by Dashaun Young, Josslynn Hlenti and Thandazile Soni respectively. The company will also include Steve Beirnaert, Matthew Forbes, Jean-Luc Guizonne, Richard Hurst, Alan McHale, Rebecca Omogbehin, Carl Sanderson and Simon Trinder.
The tour coincides with The Lion King celebrating 20 years at London's Lyceum Theatre. Since the UK premiere in London on 19 October 1999, The Lion King has entertained over 15 million theatregoers and remains the West End's best-selling stage production and the sixth longest-running West End musical of all time.
Also joining the cast are Lwandolwethu Dennis Bam, Khanyisani Beato, Nigel Brown, Rushand Chambers, Tau-En Chien, Javier Cid, Jorrell Coiffic-Kamall, Tevin Daniel, Tim Driesen, Matthew Elliot-Campbell, Oraine Frater, Brian Gilligan, Daniel Griffith, Alicia Hayward, Zalika Henry, Caleaf Hensen, Olivia Jones, Melvin La Blanc, Jochebel Ohene MacCarthy, Zanele Mazibuko, Daniel De Jesus, Mejia Garcia, Zanele Ndlovu, Buhle Nkomo, Brianna Ogunbawo, Paige Peddie, Tara Price, Charlotte Samaroo, Cristiane Santos De Jesus, Mamido Bomboko Souchu, Sherry Tay, Francesca Thompson, Connor Pele Williams, Maria Yim and Bukiwe Zinganto.
Julie Taymor's internationally-celebrated stage adaptation opened on Broadway in 1997 and 25 global productions have now been seen by more than 100 million people. The original score from the animated film was expanded for the stage and now features 15 musical numbers. As well as writing completely new songs, South African composer Lebo M created an evocative blend of African rhythms and chorales, with additional material by Taymor and Mark Mancina. Elton John and Tim Rice added three new numbers to the five that they wrote for the award-winning score of the animated film. Further cities will be announced in due course.
Buy Tickets to The Lion King
Price:
from £20.00 to £35.00