It's won Tony, Olivier and scores of other awards around the globe. Has ONCE also been winning the hearts of critics on its first-ever major UK tour? Short answer: yes! We've rounded up the review highlights and there are a whole bunch of ★★★★★!
Based on the critically acclaimed and much-loved film, ONCE tells the uplifting yet yearning story of two lost souls - a Dublin street busker and a Czech musician - who unexpectedly fall in love. Following their relationship across five short days, big changes happen to both of them in little ways. Celebrated for its original score including the Academy Award-winning song Falling Slowly, ONCE is a spell-binding and uplifting story of hopes and dreams.
On this first major UK tour, the cast is led by Daniel Healy as Guy and Emma Lucia as Girl, who return to the roles after receiving critical and audience acclaim in the production's 2018 premiere at the New Wolsey Theatre, Ipswich and Queen's Theatre, Hornchurch.
The cast, directed by Peter Rowe, also features Dan Bottomley as Billy, Matthew Burns as Eamon, Ellen Chivers as Reza, Rosalind Ford as Ex-Girlfriend, Lloyd Gorman as Svejc, David Heywood as Emcee, Samuel Martin as Bank Manager, Peter Peverley as Da, Susannah Van Den Berg as Baruska and James William-Pattison as Andrej. The cast also includes Emma Fraser, Seán Keany, Hanna Khogali and Conor McFarlane.
Based on the cult 2007 Irish indie feature, originally shot on a micro-budget of just $160,000, ONCE premiered at the New York Theatre Workshop in 2011 before transferring to Broadway in 2012. There it won eight Tony Awards including Best Musical, the Drama Desk Award for Outstanding Musical and the Grammy Award for Best Musical Theater Album. Productions have since opened all over the world, including the 2013 West End production, which received the Olivier Award for Outstanding Achievement in Music.
---
Enter to win by Friday 6 March!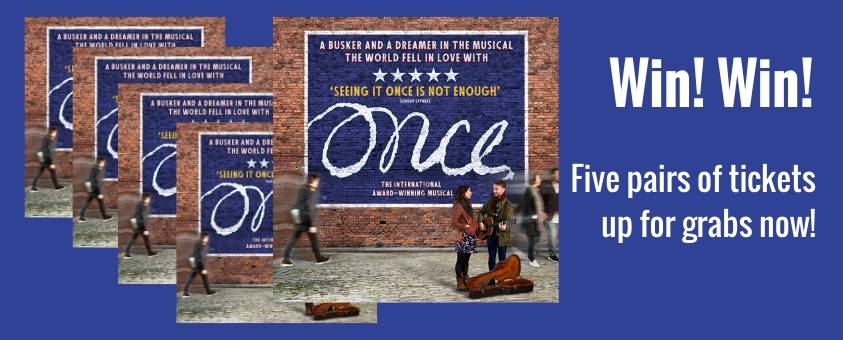 ---
Review highlights