What are your plans for Thursday 23 April 2020? For #StageFaves fans in quarantine, the stellar online fundraiser All the Web's a Stage (held on Shakespeare's birthday) will be an absolute must-watch. We're delighted to support Theatre Together's efforts.
Theatre Together, a new collective of over 60 artists and professionals, will present All the Web's a Stage, an online event featuring a variety of live performances to raise money for those in the arts facing hardship as a result of the Coronavirus pandemic. The event takes place on Shakespeare Day, 23 April 2020, a date marked to celebrate the Bard and the performing arts.
The event will feature a curated programme across a variety of live performance disciplines such as cabaret, comedy, dance and theatre. Danny Mac, Tom Milner, Jodie Prenger, La Voix and Wicked's Laura Pick headline the line-up.
They are joined by Gemma Barnett, Tom Brace, Joanne Clifton, Oscar Conlon-Morrey, Evangeline Dickson, Rebecca Gilliland, David Hunter, Caroline Kay, Evie Rose Lane, Luke McCall, James McDermott, Tamaryn Payne, Robert Rhodes, Oliver Savile, Cleve September, Noah Thomas, Dylan Turner, Marisha Wallace, Daisy Wood-Davies, Luke Wright, Al and Roddy and Vocal Xtr3me, with further acts to be announced.
Performances will be streamed live throughout the day on Thursday 23 April. Audiences will be able to watch for free, with the opportunity to donate to those in the performing arts in need. Further details on streaming platforms and the charities being supported will be announced shortly.
Audiences can watch for free on www.theatretogether.co.uk and are invited to make donations.
---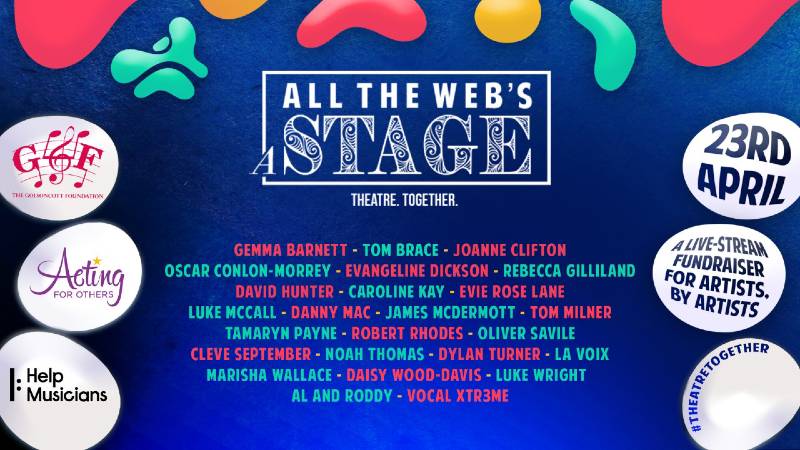 Quotes
Sofi Berenger, co-producer of All the Web's a Stage, said:
"While we've welcomed the government's support for the self-employed and the arts in this emergency, it's clear that many of our industry colleagues will not be eligible for this support. And as many have highlighted, the performing arts are going to take some time to recover from this extended period of closure. The response to All the Web's a Stage has been completely overwhelming, and we couldn't be more thankful to those in our industry coming together to raise funds to support each other in this time of need."
Joel Marvin, Fundraising Coordinator at Acting for Others, said: "We are very much looking forward to All the Web's a Stage on 23 April. Thank you to all the amazing performers that are streaming live online in aid of Acting for Others. We are excited to see some familiar faces along with all the talented emerging artists!"
Emma Jones, Community and Appeals Manager at Help Musicians, said: "Help Musicians is very pleased to be the recipient of the funds that Theatre Together will be raising for our Coronavirus Financial Hardship Fund. The impact of the Coronavirus on musicians' lives and careers is unprecedented, and the newly launched £5m Coronavirus Financial Hardship Fund has been set up to help alleviate some of the immediate financial pressures that many professional musicians may be facing. Since the fund launched on Wednesday 25 March, we have received thousands of applications and there is a vital need to offer even more musicians emergency financial support.
"There has never been a more important time to support our work, and on behalf of the team at Help Musicians, we are very grateful in advance for all donations raised on the day of the live stream fundraiser."