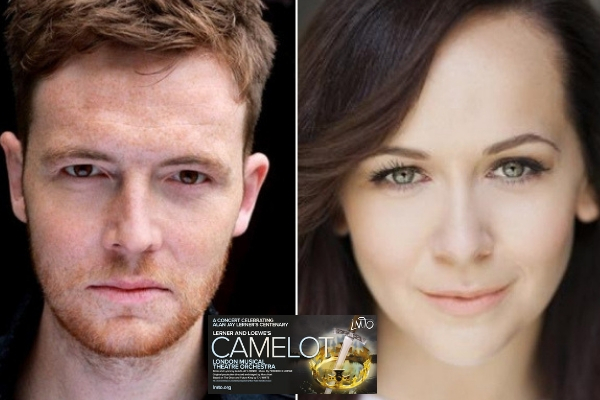 David Thaxton's Arthur and Savannah Stevenson's Guenevere will not only be joined by the likes of Celinde Schoenmaker, Emmanuel Kojo & Oliver Savile in London Musical Theatre Orchestra's special forthcoming concert version of Camelot on 6 October 2018, internationally renowned opera star Charles Rice has also been cast as Lancelot. How can we resist?
Lerner and Loewe's Camelot, the winner of four Tony Awards, returns to the West End for the first time in more than 30 years and the LMTO's concert version with full orchestra will celebrate the centenary of Alan Jay Lerner's birth.
Olivier Award winner David Thaxton (Passion, Les Misérables, Jesus Christ Superstar), Savannah Stevenson (Wicked, Aspects of Love, Follies), and Charles Rice (Mozart's Requiem, The Barber of Seville, Candide), will be joined by: Sam Swann (Jekyll & Hyde, Mr Selfridge, Vicious, Wendy & Peter Pan) as Mordred; Clive Carter (Mamma Mia: Here We Go Again, Oklahoma!, Priscilla, Queen Of The Desert, We Will Rock You, Into the Woods) as Pellinore and Merlyn; Celinde Schoenmaker (Barnum, The Phantom of the Opera, Les Misérables) as Nimue; Matthew McKenna (Sunset Boulevard, Starlight Express, We Will Rock You, Legally Blonde, The Phantom of the Opera) as Sir Dinadan; Emmanuel Kojo (Girl From the North Country, Show Boat, The Scottsboro Boys) as Sir Lionel; Oliver Savile (Wicked, LMTO's State Fair, The Phantom Of The Opera) as Sir Sagramore; and Raphael Higgins-Humes (Lion King, Motown The Musical, Matilda The Musical) as Tom of Warwick.
The LMTO Chorus includes: Jake Byrom, Elissa Churchill, Charlotte Clitherow, Ed Court, Emma Fraser, Lee van Geelen, Erin Hair, Daniel Hall, Adam Hepworth, Matthew McDonald, Emma Oliver, Cameron Potts, Lydia Shaw, Rosie Williamson, Lizzie Wofford and Thomas Wright.
The London Musical Theatre Orchestra is conducted by founder Freddie Tapner who said:
"I'm extraordinarily excited to have this sensational cast join LMTO at the London Palladium for Camelot, led by Olivier Award-winner David Thaxton and Savannah Stevenson. I'm particularly thrilled to introduce opera star, Charles Rice, to musical theatre fans – I know you'll fall in love with his voice, just as we did at LMTO HQ when we found him. Camelot hasn't been seen in the West End for 30 years and we can't wait to share this glorious score with you on Saturday 6 October."
This much-loved musical brings the legend of King Arthur to vivid life with an extraordinary score and book based on T.H. White's novel The Once and Future King. Songs include 'If Ever I Would Leave You', 'How to Handle a Woman', 'The Lusty Month of May' and 'Camelot'.