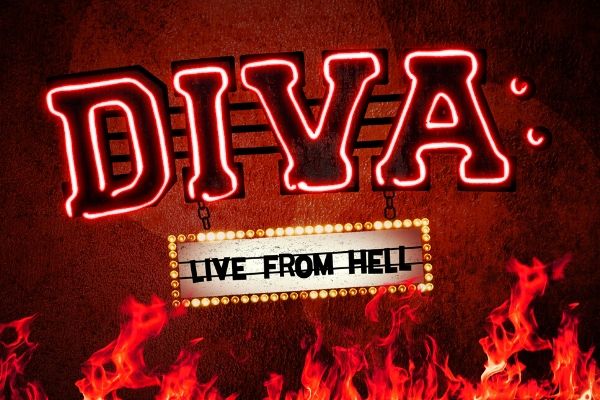 Award-winning one-man musical Diva: Live from Hell will receive its European premiere later this month, when it plays a two-week season at the Jack Studio Theatre. Book your tickets now!
The musical, created by Sean Patrick Monahan (book) and Alexander Sage Oyen (music & lyrics) runs at the Brockley Jack from 17-28 March 2020.
As president of the drama club and star of every school show, Desmond Channing spent most of his short life in the spotlight. When a rival student Evan Harris, a hotshot transfer from New York, challenges his throne, Desmond responds as any diva would, with lethal force…
Now stuck in the 'Seventh Circle', Hell's most squalid cabaret venue, Desmond is forced to relive his disturbing tale of woe. As we join him and his band for their one-millionth consecutive show, Desmond performs with a desperate vigour in the hopes that he can prove he's repented and can be freed from this eternal, campy torment!
Diva: Live from Hell began life as just Diva, a solo show created by Less Than Rent Theatre for the 2013 United Solo Theatre Festival. Following that award-winning run, Monahan teamed up with Oyen to turn the piece into a solo musical that debuted in 2017, when Daniel Goldstein directed Monahan as Channing and all the onstage characters.
For the London production, Joe McNeice, Artistic Director of Scaena Theatre Company, directs Jak Malone as the murderous musician. Malone joins Diva: Live From Hell following his most recent performance in the acclaimed Operation Mincemeat. His previous crecits include A Beginners Guide to the Zombie Apocalypse, A Clockwork Orange and Terrible Tales of Horrible Horror. Writing about Malone for Stagedoor, Lyn Gardner said: "Jak Malone mixes comedy with devastating emotional clout."
When Diva: Live from Hell ran in New York, Theater Scene said of it: "…clever, fun, camp and deliciously mean-spirited…DIVA: LIVE FROM HELL…displays a keen, witty sense of the closed-minded community and, particularly, the aches and pains of the high school years."
It is not the only musical created by the partnership of Monahan and Oyen, thev also collaborated on Galatea, Tyrants and Little Mac, Little Mac, You're the Very Man.
Diva: Live from Hell id the premiere production from Stephen Yolland Entertainment, a new company, founded in 2019 by University of Bristol graduate Yolland, to present rarely produced, new and unique musicals.
Diva: Live from Hell runs at The Jack Studio Theatre, 410 Brockley Road, London, SE4 2DH from 17 to 28 March with performances Tuesdays to Saturdays at 7.30pm, Matinees Saturdays and Sundays 2.30pm. Tickets are priced from £16. CLICK HERE TO PURCHASE!
---
Diva: Live from Hell in rehearsal images