What do Amber Riley and the cast of Dreamgirls do on their night off? Help launch a new 1980s jukebox musical, of course. Conceived and co-written by Dreamgirls ensemble member Ashley Luke Lloyd, MAD ON HER has a strictly limited season of weekend performances at Above the Arts Theatre. Check out party pics below and visit the show's StageFaves page for our production shots gallery...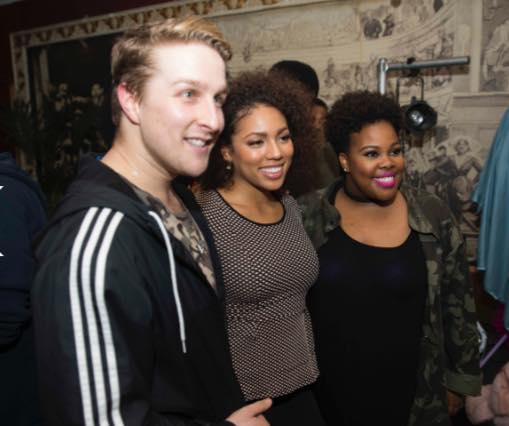 MAD ON HER officially launched in front an invited audience including Amber Riley, Liisi LaFontaine and other members of the original cast of Dreamgirls and cast members from the West End's forthcoming blockbuster Hamilton. A whole room full of #StageFaves cheering their peers on - we love it!
Following that one-off performance on 5 November 2017, MAD ON HER now continues for six more performances over the next three Sundays on 19 November, 26 November and 3 December at Above the Arts Theatre in the heart of the West End.
Get your gladrags on and glitter on as Donna and Tina party through the nightlife and drama of 1985. Donna, ambitious and stylish, is climbing the ladder of success. Finding 'Mr Right' is the last thing on her mind – little does she know he could be just around the corner.
Meanwhile, Tina, with her big hair and big heart, is the disco diva of the boulevard. As Donna's best friend, she sets out to play cupid. Step into the nostalgia of the neon lights and get ready to "party the night away" with a string of 1980s chart-toppers in the new jukebox musical.
The MAD ON HER cast includes Emmerdale's Kelsey Beth Crossley, Britain's Got Talent finalists James Colebrook and Hollie Steel, Sarah Watson, Jade Johnson, Laura Wilson, Phoebe Rose White, Brooke Havana Bailey, Simone Kite, Dani Acors, Emily Shuck and Ashley-James Eyers.
MAD ON HER is created by actor-writer Ashley Luke Lloyd (pictured left with Riley and LaFontaine), currently performing himself in Dreamgirls, and co-written with fellow #StageFaves performer Koryann Stevens-Delves, now appearing in the 50th-anniversary revival of Hair. It's co-produced by Sam Ohlsson for BlackDeer Productions alongside Lloyd.
Launch party
How many Dreamgirls and Hamilton stars can you spot with the cast of MAD ON HER?