What's Tony Blair doing in the run-up to Christmas? Saving the world from an insane Russian emperor threatening nuclear Armageddon and the mad monk Rasputin (who never died), of course! Outrageous comedy rock musical RASPUTIN ROCKS! continues its London premiere season at Stockwell Playhouse until 10 December 2017. Check out our featured show trailer and music video, photos and audience tweets.
RASPUTIN ROCKS!, presented by Facsimile Productions, has book and lyrics by Andrew Hobbs and music by Alistair Smith.
"We created this show for one reason only: to entertain," says Hobbs. "With all the doom and gloom around us, we could all use a little cheering up, and that's what we're here for. RASPUTIN ROCKS! is unlike anything you have ever seen before and is guaranteed to leave you with a massive smile on your face!"
Set in the near future, RASPUTIN ROCKS! features an insane Russian emperor who's been diagnosed with a terminal illness and decides to take the whole world with him in a global nuclear armageddon. He has also discovered that the legendary mad monk Rasputin has never in fact died. After Rasputin's would-be assassins failed to kill him, they instead froze him in a vast underground icy prison, which the Emperor has now located and released him from to aid him in his evil plan.
Only hero of the free world Tony Blair and a ragtag group of revolutionaries, who are led by Svetlana and obsessed with the cheesier aspects of Western culture, stand between them and the end of the world.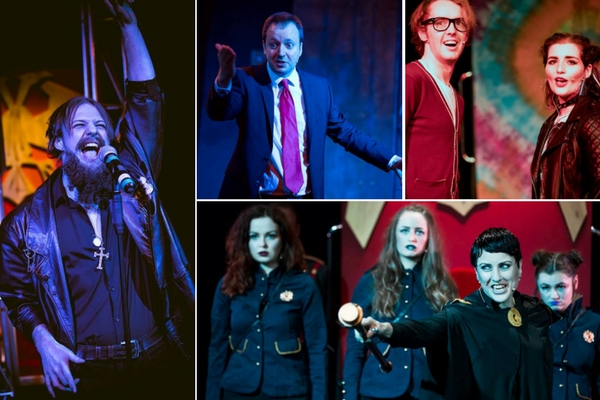 Rasputin Rocks! at Stockwell Playhouse. © Zachary Cooke
"We've written this show to appeal to both fans of hard rock and heavy metal music as well as musical theatre," says composer Alistair Smith. "We've got classic rock, doo-wop, country, funk, pop and even a hint of Russian death metal in a fun eclectic score to suit every taste!"
The 10-strong cast includes Jake Byrom (as Rasputin), Andrew Hobbs (Tony Blair), Maria Alexe (Emperor of Russia) and Tanya Truman (Svetlana) as well as Barry Greene, Charlotte Shaw, Jay Joel, Jessica Townsley, Robyn Hampton and Tristan Ward. See more production photos of the cast in action on the show's #StageFaves page.
---
Featured videos
Here's the show trailer from Stockwell Playhouse...
And an hilarious music video of one of the show's rollicking songs, "Mad Monk Rock"...
---
Trending on Twitter
Tweets about @RasputinRocks since:2017-11-14 until:2017-12-16