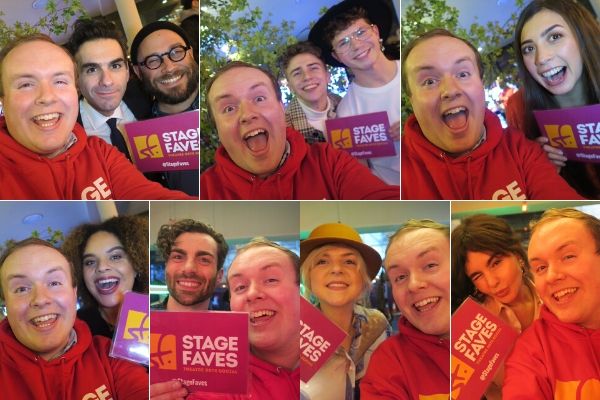 Our #FirstNightTakeover series continues with Perry O'Bree attending the opening of Be More Chill at London's The Other Palace. After the UK premiere production received a well-deserved standing ovation, Perry got the chance to catch up with the show's producers, composer and lyricist Joe Iconis, director Stephen Brackett and cast members Scott Folan, Blake Patrick Anderson, Stewart Clarke, Miracle Chance, Renee Lamb, Millie O'Connell and Eloise Davies. Here's the chance to hang out with all of them.
Cult show Be More Chill, fresh from Broadway, has already proved so popular that the show's run has been extended another six weeks, to 14 June 2020, making it the longest-running musical to play at The Other Palce.
Scott Folan plays the central character of Jeremy Heere, with Blake Patrick Anderson as Michael Mell and Miracle Chance as Christine Canigula. Stewart Clarke plays The Squip, Eloise Davies is Brooke Lohst, Christopher Fry plays Mr Heere and Mr Reyes, James Hameed plays Rich Goranski, Renee Lamb is Jenna Rolan, Millie O'Connell is Chloe Valentine and Miles Paloma plays Jake Dillinger. Understudies are: Gabriel Hinchcliffe, Eve Norris and Jon Tsouras.
Be More Chill is based on the groundbreaking novel of the same name by Ned Vizzini. With original music and lyrics by Joe Iconis and a book by Joe Tracz. Joining Iconis and Tracz on the creative team are director Stephen Brackett and choreographer Chase Brock.
---
First-night video
---
First-night tweeting