Andrew Lloyd Webber and David Zippel have revisited their 2004 West End musical THE WOMAN IN WHITE; the new version will premiere later this year at London's Charing Cross Theatre, directed by Thom Southerland. Laura Pitt-Pulford is tipped to star in the role of Marian, created by Maria Friedman...
Acclaimed rising star director Thom Southerland (Titanic, Grey Gardens, Grand Hotel) will direct the first-ever revival of Andrew Lloyd Webber's Tony and Olivier Award-nominated musical The Woman in White. It will run for 12 weeks only at London's Charing Cross Theatre, where Southerland is artistic director, from 20 November 2017 to 10 February 2018, with a press night on 4 December.
The production will feature a revised score and libretto from Andrew Lloyd Webber and David Zippel, staged for the first time.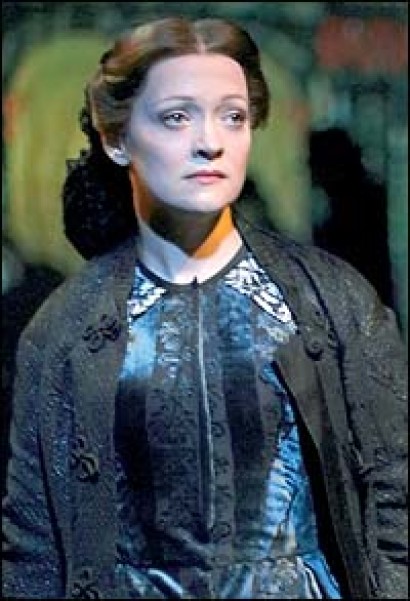 A tempestuous tale of love, betrayal and greed, adapted from Wilkie Collins' haunting Victorian thriller and featuring one of Andrew Lloyd Webber's most romantic scores, The Woman in White premiered at the West End's Palace Theatre in 2004. Now, in its first major revival, Andrew Lloyd Webber and David Zippel have revisited their original work to refresh the storytelling for a new generation of theatregoers.
Thom Southerland, Artistic Director of Charing Cross Theatre, said:
"I am so excited about this new production. The Woman in White is a wildly exciting romantic thriller which is frequently tender and personal. The music is grand, sweeping and instantly captivating. Having long been an admirer of The Woman in White, I know that Charing Cross Theatre is the ideal intimate space for audiences to experience it for the first time or rediscover this lush Victorian Gothic thriller."
Walter Hartright's life is changed forever after a chance encounter with a mysterious woman, dressed in white, desperate to reveal her chilling secret. When he takes up his position as drawing master to the beautiful Laura Fairlie and her half sister, Marian, he sees in Laura's face an eerie reflection of the forlorn creature he met previously. Walter and Laura's feelings for each other are thwarted by her engagement to the sinister Sir Percival Glyde. What is the connection between, Laura, Sir Percival, and the woman in white? Can true love prevail?
Casting is still to be announced (though Laura Pitt-Pulford has been tipped for the role of Marian, originated by Maria Friedman in the 2004 premiere, pictured right). The creative team are: Director Thom Southerland, Movement Cressida Carré, Set Designer Morgan Large, Costume Designer Jonathan Lipman, Lighting Designer Rick Fisher, Sound Designer Andrew Johnson, Casting David Grindrod Associates and Orchestrations David Cullen.
The Woman in White is produced by Patrick Gracey, Steven M. Levy and Vaughan Williams by arrangement with The Really Useful Group Limited.